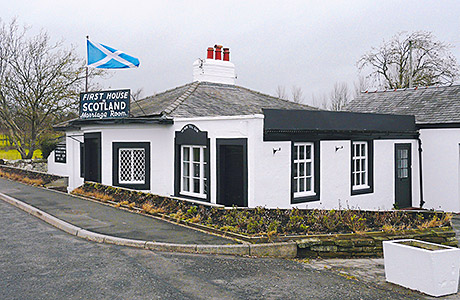 ONE of Scotland's most familiar buildings is to re-open to the public after lying dormant for years.
Gretna's historic First House is to be refurbished and will begin trading as a coffee shop this summer.
"It's an incredibly iconic building and deserves to be put back into use," said Brian Douglas, Operations Director of Gretna Green Ltd which has owned the First House since 1934.
The distinctive black and white former Toll Bar cottage and runaway marriage venue – which has seen more than 10,000 marriages – was mothballed in 2008.
"Back then we decided to concentrate our focus on developing Gretna Green Famous Blacksmiths Shop just up the road into an international standard visitor attraction," explained Mr Douglas.
After VisitScotland awarded this destination the top-rated Five Star Visitor Attraction status last summer, attention switched back to the First House. "We had always intended to bring it back into appropriate use as soon as possible," Mr Douglas added.
"We recently restored all the black and white livery to its former glory and interior conversion work will begin for an early summer opening."
The First House gained its nom de plume in 1830 after a new road from England to Scotland bypassed Gretna village and passed over the River Sark next to the house.
Runaways using the new road and bridge would stop off here to seal their legal declaration of love.
For many years Gretna Green Ltd ran the First House as a marriage venue and as part of a thriving caravan and camping site and shop.