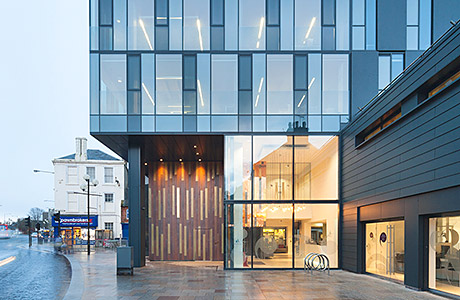 IAN Springford Architects have completed work on the refurbishment of Bridgegate House in Irvine for North Ayrshire Council.
The project involved the recladding and internal reconfiguration of an existing 1970's office building in the centre of Irvine as part of the urban regeneration of the town centre and a key component of the council's property consolidation programme.
The client brief was to retain the building and upgrade the existing external envelope, improve the occupational efficiency of the office space and unify the shop fronts, all while the building remained fully occupied.
The dark, tinted, dilapidated curtain walling system was replaced with a high performance curtain wall envelope featuring clear tinted solar control coatings and ceramic fritted patterns to provide privacy and shading.
A screen of anodized aluminium mesh louvers at first floor level will shade the glass, offer privacy, and create a layer of animation and variation through texture and colour along the streetscape to soften the appearance of the building.
The existing solid, tiled walls at the rear of the building are being thermally upgraded and finished in a variety of materials. Copper alloy cladding highlights the entrances and provides a warm contrast to the glass.
The office space accommodated only 250 people. The cellular office floor plates have been stripped back to create open plan, naturally ventilated, flexible spaces. The existing concrete frame has been exposed to utilise its thermal mass as part of the passive cooling strategy.
The new open plan layout actively promotes departmental connectivity and communication and improves the transparency of council services while allowing for future flexibility.
The layout accommodates around 410 people with capacity to increase this to 450.
The neglected High Street underpass has been enclosed with a light, transparent glazed envelope to create additional floor space and bringing a new focal point to the street. Within this double-height space a vibrant, multi-functional, customer services centre has been created to house North Ayrshire Council's front of house services, further streamlining the councils operational efficiency and creating a new public image.
The services also include a municipal bank and interview rooms.
The refurbishment work was coordinated with wider public realm and streetscape enhancement work undertaken at the same time. To complicate matters further, the number of mobile phone and telecommunication masts are mounted on the roof and could not be disturbed during the work.