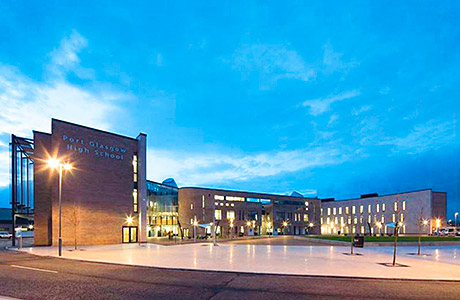 AN ambitious new development to create a shared campus for four schools has benefited from a roofing and cladding package by Lakesmere.
The new scheme has replaced the existing Port Glasgow High School and St Stephen's High School whilst also integrating Lilybank Primary School and Glenburn Additional Support Needs School in addition to the creation of various community and leisure facilities.
With so many schools involved in the redevelopment, the project's tight construction programme required multiple elements to be completed simultaneously so Lakesmere was required to co-ordinate closely with numerous other interfacing sub-contractors.
This was achieved via regular on-site co-ordination meetings with the main contractor GRAHAM Construction and the various sub-contractors.
The project features several examples of challenging geometric design. In particular, the timber structure to the ASN building, which was eventually covered with tapered Kalzip standing seam, first required a levelling structure to ensure the perfect 'cone' shape was achieved. This involved on-site co-ordination with Lakesmere's design and construction team to utilise the engineering expertise and knowledge of the technical department.
The granite rainscreen element also involved a complex design to ensure a visible curve on plan to a building which was built with a series of facetted blockwork. Through the use of surveys and collaboration between Lakesmere design and engineering departments, the team was able to co-ordinate and assess the actual set-out of the blockwork wall and form the finished radius to ensure the visual aesthetic required by the client Inverclyde Council and architect Archial Group was achieved.
Lakesmere was also responsible for the installation of the Kalzip roof and as such liasied closley with the sub-contractor who fixed a large series of
photovoltaic panels fixed to the Kalzip system to enable an
environmentally sound power source for the school for years to come.
At the Scottish National Federation of Roofing Contractors Roofing Contractor of the Year Awards, Lakesmere's Glasgow team secured the top prize in the Roof Sheeting category for its work on the Port Glasgow shared campus scheme. Having won the category for the second consecutive year it was a double celebration.
The team also narrowly missed out on success in the External Cladding & Rainscreen category after receiving two nominations.