Jonathan Fellingham, Managing Director of Donaldson Timber Engineering, discusses the growing popularity of attic roof trusses as a method for creating "room-in-the-roof"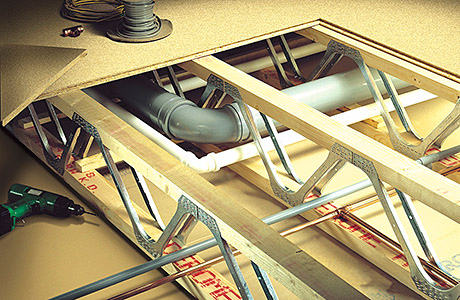 DESPITE the recent pick up in the housing market, people continue to be more likely to 'improve' rather than move, so maximising the amount of room in new and existing houses is a growing priority.
One of the most frequent enquiries we receive is how more room can be added into the roof – whether for extra storage, more living space, or just to keep their options open for future expansion.
The answer is incredibly simple; by utilising attic roof trusses.
Timber roof trusses are by far the most common method of constructing a pitched roof – and we've seen a significant rise in interest in attic roof trusses in particular over the last year.
In fact, around 40% of all trussed rafters now produced are attic trusses, as they are the most economical solutions to adding rooms to a home. They increase the habitable area by as much as 40% at little extra cost to the overall roof.
Attic trusses span over 8m without internal load bearing walls, supporting approximately 60% more load than a standard truss of the same size and pitch.
As there is no triangulation in attic style trusses, the top and bottom chords are increased in size, allowing them to handle the increased load required for usable floor space.
The flexibility of these components is undoubtedly what sets them apart from other methods of construction in this area. A trussed rafter can be designed for virtually any roof shape.
Unlike modern panel systems which are more suited for narrower, gable fronted construction, attic trusses can accommodate larger, complex roof plans.
Taking the proposed building's data and statistics, the roof is designed by computer to exact specification, creating bespoke trusses for a wide variety of shapes and sizes.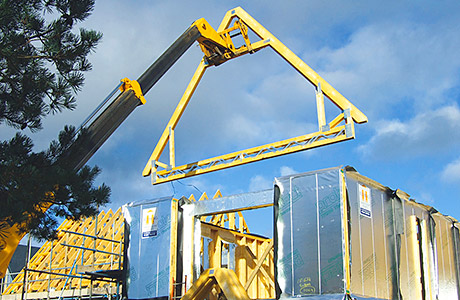 This has provided fresh opportunities for those who previously thought adding extra roof space may be beyond reach.
There is also scope to incorporate further benefits to the attic truss system. By combining the trusses with another engineered wood component, open web joists (Posi joists), electrical and plumbing service are easily accommodated or modified, which gives the homeowner the ability to easily change internal wall positions along with plugs, sockets and radiators in the future.
Our team recently worked on an exclusive development of six luxurious houses for T Fleming Homes Ltd, where we supplied attic trusses using a Posi-Joist bottom chord.
As well as the flexibility, the advantage which was of most interest to the client was the ease and speed of initially installing plumbing and electrical services.
The design of the structure needed services to be run through the floor joists, but the second floor of the property required an attic style truss. Our designers' solution was to develop an attic truss system that used Posi-joists as their bottom chords.
Thanks to the open web design, these joists eliminate costly cutting and drilling when installing services.
The final roof structure comprised 32 attic trusses with Posi-Joist bottom chords and raised tie trusses with cat-slide rafters, all produced in under a day.
Leaving the option for Room-in-the-Roof is a valuable solution and one that ensures a lasting legacy.
Its practicality, flexibility and ease of installation make it an attractive prospect and one that will only continue to grow in popularity.