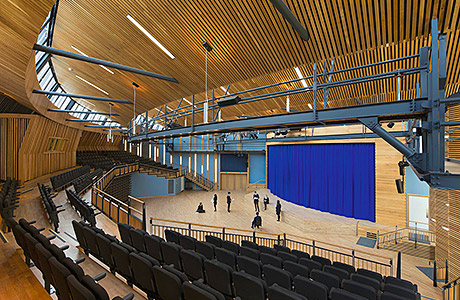 One of the most impressive performing arts centres to be built at a school in the UK features a bespoke roof glazing solution from Wicona.
Designed by Associated Architects and built by Miller Construction, the Performing Arts Centre at Yarm School in the North East is a major component of the redevelopment of this co-educational private school.
The new facilities include a double height entrance foyer with stunning views over the River Tees, a large fan-shaped centre for dance and drama, and a fully flexible auditorium capable of accommodating up to 800 people.
Here, retractable seating allows this space to be used for a variety of functions, from examinations to concert performances.
The roof to the auditorium has a combination of square and shaped glass panels constructed using Wicona's WICTEC 50 aluminium roof glazing system, creating a smooth radius of roof lights.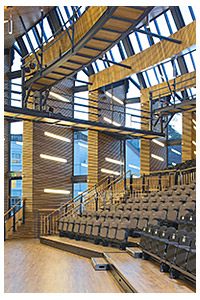 Barbora Bott, Project Architect at Associated Architects, said, "The use of roof glazing allows us to have good natural light penetrating deep inside the auditorium, and was a unique arrangement for this project.
"Light was important because the space has a range of functions. The WICTEC 50 system gave us the benefit of a bespoke roof glazing solution with slim sections, excellent thermal performance and outstanding aesthetics. It compliments both the vertical glazing on the project and the extensive use of wood finishes in the theatre very well. The end result is very effective."
The WICTEC 50 roof glazing option has been engineered to create large unsupported spans and complex shapes such as domes, facets and pyramids on challenging and high specification architectural schemes.
The system was developed to be simple to fabricate and install, saving time on site, and has highly efficient drainage, whether the requirement is for sloped glazing or more complex 3D glass roof constructions.
A key design feature is that it uses penetrating transoms to achieve more effective drainage and avoid pooling of water which can result in water ingress.
The WICTEC 50 system is also sufficiently robust to meet project-specific requirements for glazed roofs such as wind and snow loads.
It is a dry glazed system for water tightness without the need for sealants, and the WICTEC 50 FP option has a fire rating to 30 minutes.
Other options for the system include structural glazing to give the roof construction the appearance of uninterrupted spans of glass, and integrated flush pressure plates which are less visible for further aesthetic appeal.
Photography by Martine Hamilton Knight.