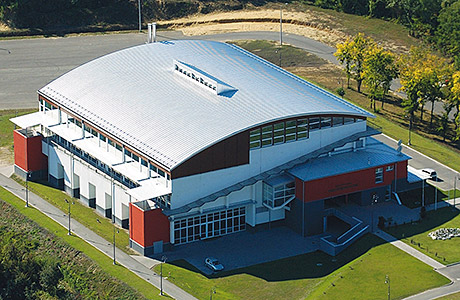 THE LMR 600 Roofing System from Astron, part of the Lindab Group, is the only completely integrated roll formed metal roofing system on the market.
Consisting of 600mm wide Aluzinc coated, high tensile strength steel panels, with a 50mm high corrugation, LMR 600 is suitable for roof slopes from 1.0 degrees to 30 degrees and curved roofs with a radius of 70m or more.
Each panel is attached to the roof structure by a special clip and a sliding tab assembly which allows the roof to expand and contract in line with changing temperatures.
The unique 360 degree double-lock Pittsburgh seam assures the highest standards of watertight integrity.
Once the panels are seamed the entire roof forms a monolithic metal membrane.
Astron offer three LMR 600 system types – single skin (with or without Isobloc strips), single skin with thermal bridge and double skin which offers insulation up to 260 mm for superior thermal efficiency and fire rating.
A full range of accessories adapted to the LMR600 roofing system are also available including: skylights, translucent panels, smoke vents, ventilators, polycarbonate vaults, roof curbs and mono vents.