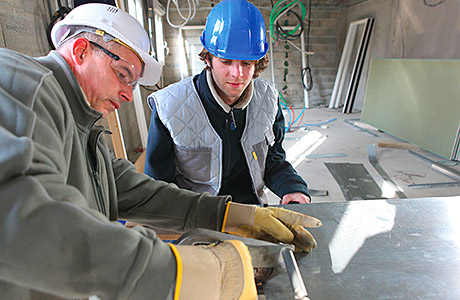 ALMOST 50% of construction companies are employing former apprentices as directors.
Other sectors which reported high levels of apprentices reaching the boardroom according to research by the City and Guilds organisation were manufacturing and engineering (43%), agriculture (33%) and energy and power (33%).
"I believe we are seeing the beginning of a fundamental shift in the way we prepare the next generation for the world of work," said Will Davies, co-founder of construction company aspect.co.uk
"For too long we have placed too much emphasis of university education when many young people would be more suited to vocational or on the job training," said Mr Davies, whose company has returned to a traditional system of apprenticeships. "These figures demonstrate that for many youngsters, apprenticeships are the best choice and the best way forward."
Matthew Hancock, the government minister for further education and skills, said, "Either going to university or choosing an apprenticeship needs to become the new norm for school and college leavers. These figures support this aim and show that apprentices are able to succeed in some of the biggest businesses in the UK."
Also, figures released by the Office of National Statistics (ONS) revealed that more than a quarter of graduates are earning less than school leavers who followed vocational training courses or apprenticeships.
The ONS said that 26% of low paid graduates found themselves working in part-time jobs, which compared to 11% of those who had followed vocational training.