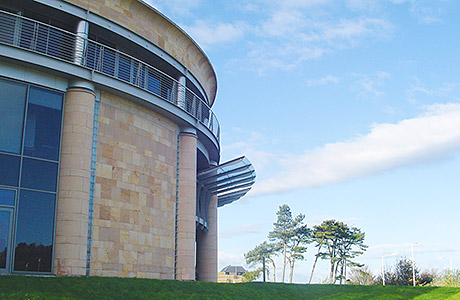 MAINTAINING the energy efficiency of buildings is a challenge at the best of times but with the entrances of two state-of-the-art buildings at the University of St Andrews facing the full force of strong North Sea winds, the university turned to revolutionary Airbloc air curtains to ensure significant cost savings and up to an 80% reduction in heat loss.
With more than 9000 students and staff passing through the doors of the internationally renowned university every day, heating and air conditioning demands would be greatly increased through the opening and closing of doors.
Situated above the main entrances, the AC and ACR series of air curtains from Airbloc proved to be the ideal cost-effective and energy efficient solution for the Gateway Building and new multi-storey Medical Science Building which both face the sea.
Working with specialist contractor Alliance Electrical, Airbloc supplied 3 x ACR120HE12-SM recessed air curtains with high capacity fans for the Gateway Building.
The powerful fans and efficient energy controller SmartElec were used to provide a stronger barrier while keeping the energy consumption to a minimum.
In the Medical Sciences Building, Airbloc supplied 2 x high capacity AC2000HE24W-SM air curtains. Measuring two metres long, these surface mounted units were installed in the lobby of the main entrance to provide strong effective air curtaining and tackle the drafts from the extreme exposure to the sea.
The advanced SmartElec energy controller utilises a built-in digital sensor that constantly 'reads' the actual temperature of the air leaving the air curtain.
The sophisticated device simultaneously modulates the electric elements to obtain a given set point temperature, thus creating a barrier to the elements and greatly reducing the amount of electricity used.
The Airbloc electric coil design uses rapid response technology to get to temperature quickly offering tighter control over the traditional sheathed elements.
They are BMS compatible and were connected to a bespoke over run facility which included door controls and PIR sensors that allowed the air curtain to activate only when the doors were in use.
The Airbloc system was installed under the University's Salix invest to save fund, which has the highest spend in the whole UK public sector.
The Gateway Building has a reception just inside from the entrance and they were provided with run-on controls for quiet periods of low foot traffic so that they could use the units as heating boosters in very cold weather.
By specifying Airbloc's leading technology, the university will be able to reduce its carbon emissions considerably and ensure excellent climate comfort for its students and staff.