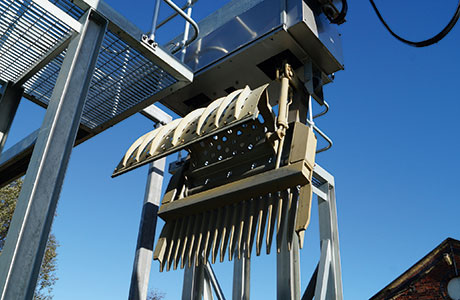 MAINTAINING the land drainage scheme in Lincolnshire is an important task for the Environment Agency (EA) and the pumping stations used to control water levels are protected by weedscreens to prevent damage to the pumps.
The equipment at the Dirtness station had been in service for over 60 years and was beginning to pose increased maintenance costs as well as potential health and safety concerns for the operators. The solution required the installation of a new system that would reduce operating costs and improve safety.
Originally housing a beam engine produced by James Watt, the pumping station at Dirtness is a Grade II listed building which has been performing crucial water level control operations for nearly 150 years.
The original steam equipment was replaced in 1928 with the current equipment being installed in 1952, which included a rotary screen designed to remove the debris from the water and deposit it on the bridge over the watercourse.
The design of the old rotary screen required a small tractor to regularly remove the resultant debris from the bridge.
However, as the tractor equipment has grown in size so the mechanised method had become impossible, so the more recent method had involved reverting back to the wheelbarrow. In addition, when the temperatures dropped in winter ice would build up on the screen and reduce water flow.
The EA brought in ECS Engineering Services to deliver a more reliable solution which would reduce maintenance costs and provide an automated weedscreen solution. ECS suggested the installation of a Landustrie automatic screen cleaner which could provide for all the immediate requirements of the EA.
ECS delivered a turn-key solution which included the removal of the obsolete equipment, complete mechanical and electrical installation as well as testing and commissioning.
Having removed the original weedscreen, ECS needed to use divers to modify the bottom of the watercourse to provide a flat base for the new screen. Additional civil engineering works were required to prepare the concrete bases for the overhead gantry and to install underground ducts for the electrical cabling. Once this work had been completed the task of erecting the steelwork could begin.
Electrical work to provide power, ultrasonic level control and telemetry was completed and connected to the central control panel. Testing and commissioning was completed along with operator training to ensure efficient and reliable operation every day. The project was completed with the installation of additional hand-railing and perimeter fencing to secure the site.