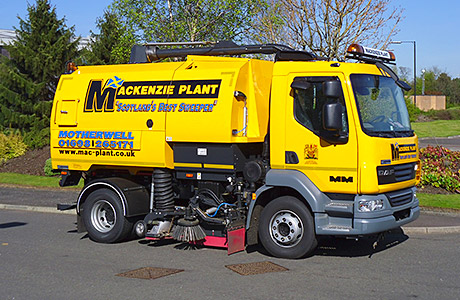 MACKENZIE PLANT, Scotland's leading roadsweeper hire company has recently completed the purchase of the Scottish operation of Go Plant, Britain's largest roadsweeper hire company.
All Go Plant's drivers in Scotland have transferred to MACKENZIE PLANT and will operate from existing depots at Motherwell and Perth, making MACKENZIE PLANT Scotland's largest roadsweeper hire company.
Roderick MacKenzie, Managing Director of MACKENZIE PLANT, is confident that the acquisition of the business will increase their workload throughout the Central Belt, an area which has suffered during recent years from lack of house building and civil engineering works.
Go Plant have been in Scotland for 25 years and are now concentrating on their business south of the border.
MACKENZIE PLANT had already ordered five new Johnston V651's and are considering increasing this number in order to replace more of the older vehicles in the fleet. Their commitment to serving the building and construction market has made them one of the best respected hire companies in Scotland, with the award of a Royal Warrant from Her Majesty the Queen in 2012 being the highlight of hiring roadsweepers over a 30 year period.
The parent company, Murdoch MacKenzie Ltd, well known in its 112 year existence with its distinctive MM LTD logo, continues with its Building and Civil Engineering Division while MACKENZIE PLANT expands its fleet of Roadsweepers and Gullytankers throughout Scotland.