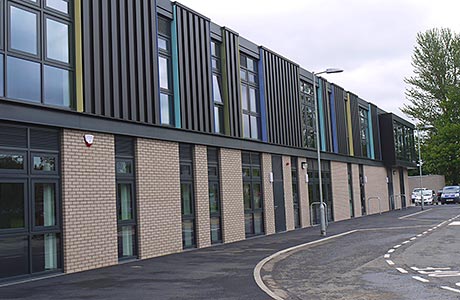 KIER Group plc, the parent company of Kier Construction in Scotland, has released its interim management statement for the six months to 31 December 2013.
The firm's solid performance was in line with expectations.
Brian McQuade, managing director of the Scottish and north-east England arm of Kier's Construction division, said, "The outlook for the construction sector is looking increasingly optimistic and this is mirrored in our own business where we are shaping up for sustainable growth this year. We have secured significant new contracts in Scotland in recent months and have a strong order book and a healthy cash balance."
Kier Construction is one of the five principal supply chain partners on Frameworks Scotland 2, the publicly funded procurement initiative that will deliver £600m worth of construction, renovation and maintenance projects to acute NHS facilities in Scotland over the next six years.
The company has also been appointed to the Highlands and Islands Enterprise Property Prime Contractors Framework, and appointed an equity stakeholder in Hub South-West Scotland, which will deliver £400m of infrastructure investment over the next decade.
Most recently, Kier Construction has completed Scotland's first ever purpose-built integrated campus for a mainstream primary school and additional support needs school in East Kilbride. They are also working on a £8m student accommodation project in Glasgow's West End and on a £6m project for Robert Gordon's College in Aberdeen which on completion, will be the largest school teaching facility for Science and Technology in the UK. The group has also won a £9.5m project to build a new extension at Robert Gordon University campus.
Financial performance
• Group revenue of more than £1.4bn (2012: £1.0bn) following the acquisition of May Gurney in July 2013
• Underlying profit before tax* up 90% to £36.8m (2012: £19.4m) following the acquisition of May Gurney
• Margins* maintained despite market pressures; construction margins at 2.3% (2012: 2.1%) and services margins at 4.3% (2012: 4.3%)
• Underlying earnings per share* of 54.6p (2012: 38.6p), up 41%
• Exceptional charge of £22.0m (2012: £4.4m) relating to the transaction costs and the ongoing integration of May Gurney
• Net debt position of £138m (2012: net cash £60m) following the acquisition of May Gurney and continued investment to drive future growth
• Interim dividend increased by 5% to 22.5p (2012: 21.5p), reflecting the Board's confidence in the business.
Operations benefiting from new contract awards
• More than £1.5bn of new work in the period with 100% of the forecast Construction division revenue and 97% of the Services division revenue for 2014 secured and probable
• Framework and negotiated work account for 60% of awards in period
• Successful integration of May Gurney in line with expectations creating a broadened capability
• Increased order book>£6bn
• Notable progress and awards in period:
• £121m joint venture award delivering first phase of the Defence Technical Training Change Programme at RAF Lyneham and appointed to £400m MOD's
National Capital Works Framework
• Strong growth in infrastructure sector with £450m Mersey Gateway contract
• Over £450m of new contracts in the Service division with strong awards in the housing maintenance, utilities and highways sectors including:
• Preferred bidder for the £110m three-year Sheffield City Council housing repairs and maintenance contract
• Award of £107m five-year Western Power Distribution contract
• £41m Costco development transaction completed in January 2014.
• Financial close on three PFIs; London Fire, Staffordshire Fire and Woking Housing, totalling approximately £200m.
• Maintained pipeline of more than £1.5bn (December 2012: £1.3bn) in the Property division.
*Underlying operating profits and margins, profit before tax and EPS are stated before exceptional items totalling £22.0m (2012: £4.4m), amortisation of intangible assets relating to contract rights of £5.6m (2012: £1.8m) and unwind of discount in respect of deferred consideration and fair value adjustments made on acquisition of £2.9m (2012 £0.7m). The prior year comparatives have been re-presented to reflect this presentation. Reported operating profit was £16.8m (2012: £16.5m), reported profit before tax was £6.3m (2012: £12.5m) and reported EPS was 7.6p (2012: 25.1p).