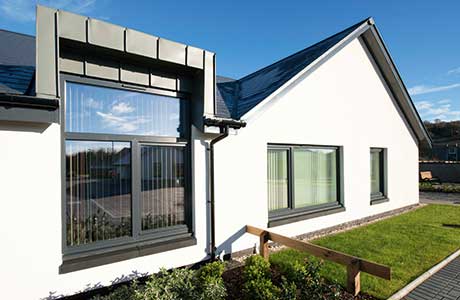 ARCHITECTS Anderson Bell and Christie chose REHAU's Passivhaus certified GENEO® window system in a new residential development for North Ayrshire Council which was required to meet a Silver Active Level of sustainability.
The specification was laid down by the council for twelve new bungalows built on an exposed site in Millport on the Isle of Cumbrae.
In response, Anderson Bell and Christie adopted a 'fabric first' approach and focused on optimising the thermal performance of the insulation, cladding and windows in the buildings, choosing REHAU GENEO® because the system could offer U-Values as low as 0.68 W/m²K.
North Ayrshire Council had stated a preference for a PVC-U window solution because of its proven low maintenance properties and the REHAU GENEO® system was judged to be the most contemporary looking high performance window in a PVC finish.
It is extruded in a fully recyclable RAU-FIPRO® fibre composite material but has a coextruded outer layer all the way around which is made from REHAU's high quality RAU-PVC.
Aesthetically, the architects liked the slim 115mm sightlines of REHAU GENEO® coupled with the fact it could be foiled externally in a grey finish and left white on the inside.
In total, 150 windows fabricated by specialists Solar Windows have been installed in twelve bungalows on the development in sizes ranging from 0.6m² to 5.2m², with U-Values as low as 0.68 W/m²K.
All windows were triple glazed.