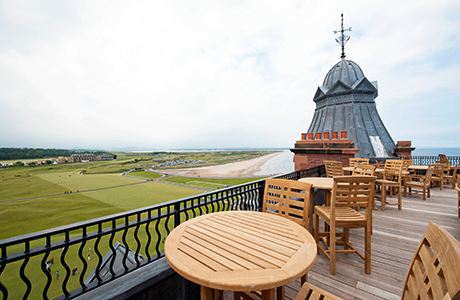 ONE of the most exclusive residences in Scotland, Hamilton Grand in St Andrews, offers luxury apartments that are said to enjoy 'the best view in golf', looking straight down the Old Course's famous 18th fairway.
Buzon UK has played its part in allowing the most to be made of the stunning vista by supplying the pedestals that support the deck of the roof terrace and balconies.
The historic building began life as The Grand Hotel in 1895 and provided the very height of luxury to guests including royalty and stars on the stage and screen.
After being requisitioned during World War Two, the hotel's days of glory were over – and it latterly served as a hall of residence for university students before being sold and falling into disrepair.
Now it has been transformed, restored to its former glory, creating 26 unique two and four-bedroomed residences.
Some of the properties have their own balconies, and the incredible roof deck is for the enjoyment of all residents and their guests – offering panoramic views across the Old Course and links, as well as along the stunning West Sands beach and coastline beyond.
Supporting hardwood decking, the Buzon UK pedestals are impervious to corrosion and offer the durability to withstand such a stand-out location. With the installation undertaken by the Outdoor Deck Company, over 1,000 pedestals were used.