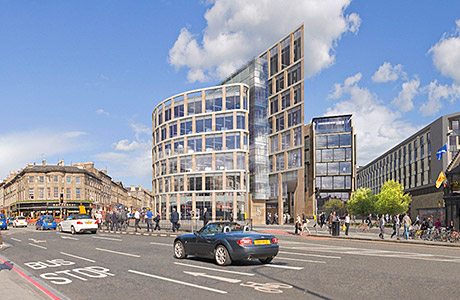 CONSTRUCTION work has started at The Haymarket, one of Edinburgh's biggest commercial developments of the last 10 years.
Engineering work has begun on the railway tunnels beneath the four-acre site, adjacent to Haymarket Railway Station.
Edinburgh Haymarket Developments Ltd anticipates a 12-month underground works programme, undertaken at night to avoid disruption to travellers using one of Scotland's busiest rail networks. Above ground construction is set to start in spring next year, with the first buildings' phase earmarked for completion in 2016.
The work will result in a £200 million mixed-use development delivering a mix of high quality office, hotel and retail space with the potential to create 3,500 jobs.
There has been significant interest in The Haymarket from commercial operators. This includes major hotel operators. Tenants already signed up for the initial development phase include Q Park, Tesco and Staycity.
Edinburgh Haymarket Developments is a joint venture between Interserve and Tiger Developments. Interserve's Development Director David Westwater said, "We have made excellent progress since signing the agreement with Network Rail that allowed us to start work on The Haymarket."
The Haymarket has planning consent for 404,000 sq. ft. of office accommodation and 60,000 sq. ft. of commercial and leisure space, together with a 165-bedroom hotel and underground car park.