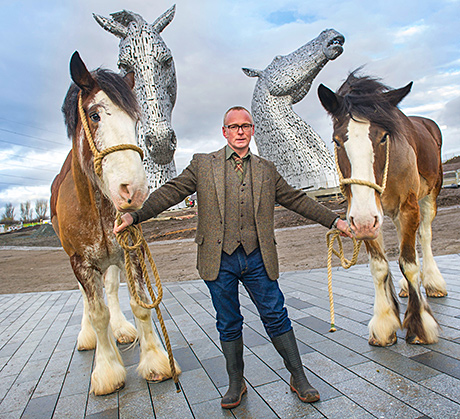 WORK on Scotland's major new cultural landmark – the world's largest pair of equine sculptures – has been completed.
The £5 million The Kelpies structures in Falkirk are part of the £43 million Helix project, which is transforming 350 hectares of land between Falkirk and Grangemouth.
The Kelpies form a dramatic centrepiece to the development, which is expected to attract an additional 350,000 visitors and add £1.5 million in annual tourism spend.
Standing 30 metres tall, they pay homage to the tradition of the working horses of Scotland which used to pull barges along Scotland's canals and worked in the fields in the area where they now stand.
Yorkshire firm SH Structures won the contract to build the giant structures. The Helix Project was funded by the Big Lottery Fund, Falkirk Council and Scottish Canals.
The sculptures stand either side of a new canal extension which links the Forth & Clyde Canal to the North Sea and are the result of a unique collaboration between the partners and Glasgow-based artist, Andy Scott, which has been seven years in the making.
More than 600 tonnes of structural steel has been used in the construction process and more than 10,000 special fixings have been used to secure the 'skin' of the two horses heads to the steel framework.
Dramatically changing the local landscape, The Kelpies and the new canal link into are expected to open up the inland waterways to more and bigger vessels and lead to an increase in boating traffic throughout Central Scotland.
Senior representatives from each of the funding partners were joined on site by Scottish Government Minister for Transport, Keith Brown MSP, and Andy Scott to complete the five-month construction project, which has seen seven men carefully put the intricate design together piece by piece.