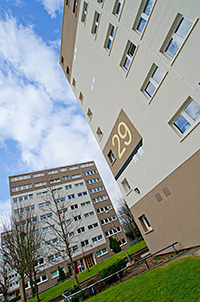 ALUMASC'S Swisslab External Wall Insulation System has been used for the refurbishment of blocks 9, 19 & 29 Carron Crescent in Springburn, Glasgow.
Alumasc's approved installer, A.C. Whyte, was employed for the installation to the 9-storey properties which comprise a mixture of North Glasgow Housing Association tenants and private owners.
3600m2 of Swisslab was installed with a combination of mineral wool and phenolic insulation and a Silkolitt silicone render and dry dash finish on properties ranging from 2-15 storeys.
The project presented a number of challenges including a contract period requiring completion within 24 weeks. Furthermore, the intricate design involving three colour changes required the installation of multi-coloured render panels to create an optical illusion or 3D effect.