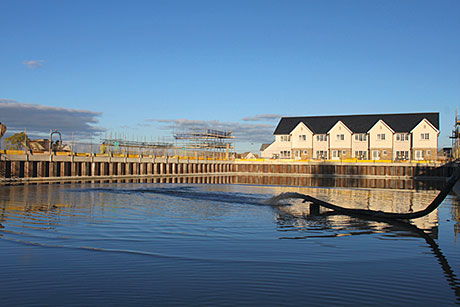 RAYNESWAY has brought the mooring of boats at The Mooring, a new development by CALA Homes at Ratho, west of Edinburgh, a step closer.
The project reached an exciting milestone recently when three million litres of water were pumped into the £700,000 mooring basin which the Raynesway team of 17 has been creating since the summer.
The new basin, which will connect to the Union Canal, has been built within a sheet piled wall and has a bentonite liner and reinforced concrete base. Measuring 65m by 31m and 1.5m deep, the marina area will provide 15 canal berths when it opens in early 2014.
Raynesway Managing Director, Stephen Scott, said, "We are delighted to have reached this major milestone. The canal is a great asset for the area and the mooring facilities in the heart of the new development will help to integrate it with the surrounding community."
Raynesway, part of Balfour Beatty's UK construction business, began in 1982 with a £1 million turnover.
Raynesway completes about 40 contracts a year across central and southern Scotland working in areas such as transport, energy, defence, surfacing, road and traffic management and landscaping. The company holds maintenance contracts for many local authorities in central Scotland.