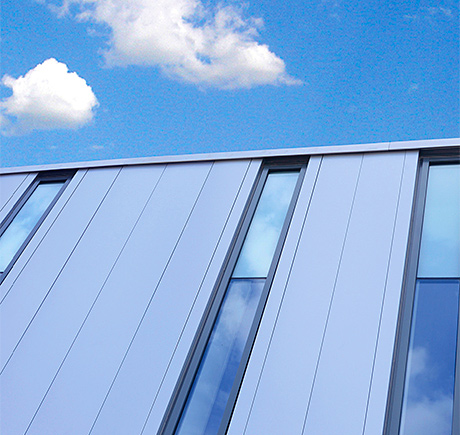 Kalzip's low cost FC rainscreen system was specified in vertical formation by Glenn Howells Architects for two new schools in Birmingham: George Dixon Academy and the neighbouring George Dixon Primary School.
Lend Lease was the principle contractor for the buildings and the 1,300 m2 of Kalzip's quick-fit FC rainscreen panels were installed by cladding contractor Stoneleigh Services.
Glenn Howells lead architect Paul Miller says: "We wanted a cost effective, flat surfaced single skin cladding system with neat joints to integrate with the tall vertical windows on the multi-purpose main hall at George Dixon Primary School and the main hall at George Dixon Academy.
"We worked collaboratively with Kalzip to develop a set of details which utilise the Kalzip FC rainscreen system in long slender modules.
"The FC's versatility proved ideal as the panels had to be fixed vertically to the timber subframe of the primary school's main hall and the steel structure of the academy's main hall and sports hall."
The FC rainscreen system is available in an extensive range of colours and finishes.
PVDF coated panels to RAL 9006 (White Aluminium) were specified for the George Dixon schools.
Kalzip worked closely with Stoneleigh Services on the design of the FC rainscreen to ensure that the desired aesthetic effect was achieved and the phased installation executed smoothly.
Kalzip's describes its FC rainscreen system as ideal for both new build and refurbishment projects. The panels can be configured either horizontally or vertically to suit the design requirements of each project.
The lightweight panels are installed on aligned, vertically or horizontally fixed modular click rails – a key feature of the system is that each panel is simply hooked at the top (or side in this instance) and then quickly 'clicked' into place at the bottom, or on the opposite side, as appropriate.