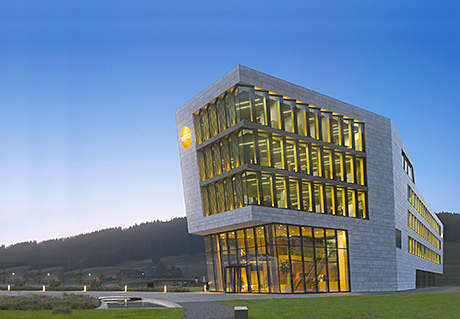 A bespoke and energy-efficient aluminium and glass façade solution has been developed and engineered by Wicona, providing a landmark new headquarters in the Black Forest in Germany for Testo AG, a supplier of portable measuring technology.
Located at Titisee in the south of Germany, the scheme is the first of four phases to be completed and was designed by Sacker Architects in collaboration with A Henne Ch Korn.
The brief was to create a distinctive building that would reflect Testo's ambitious growth and high-tech business, but one that would also blend well into its Black Forest surroundings. The scheme also had to provide a high quality working environment and minimise any impact on the environment by achieving a high level of energy efficiency.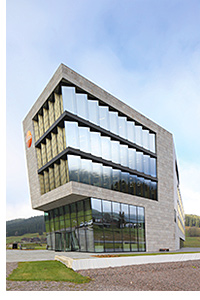 The five-storey building has a vibrant design featuring natural stone cladding and a highly complex, bespoke glass and aluminium façade construction.
At the north and south ends of the building, the Wicona glazing system is constructed as L-shaped units which overlap and tilt outwards, creating a strong, sculptural effect. This specially-designed solution comprises both fixed glazing and concealed vents for natural ventilation, with additional acoustic protection where the building is close to a busy road. The units were prefabricated to minimise work on site, ensure the highest levels of precision and accurate tolerances, and to avoid the effect of inclement weather conditions.
The side walls of the building are angled for a dynamic appearance and comprise a unique ribbon window design with integrated ventilation, interspersed with horizontal bands of smooth limestone cladding.
The specially adapted Wicona profiles and areas of triple glazing achieve U values for the glazed units as low as 1.3 W/m2K to deliver excellent thermal efficiency. The façade design also had to incorporate external solar protection – and this project is believed to be the first to feature an angled façade with external slatted blinds.
At ground floor level and for the two-storey reception area, Wicona's WICTEC 50 stick curtain walling to passive house standards was used to create an inclined façade. The angle increases from one mullion to the next which meant every pane of glass was different. This system achieved an outstanding U value of just 0.84 W/m2K to minimise the building's carbon footprint even further.
The Wicona glazing systems were all installed in just six weeks, despite working through the winter months.