COMPANIES involved in blacklisting will be forced to disclose their actions and prove they have taken remedial work to stop the practice if they want to bid for public contracts in Scotland.
The tough measure was announced as the Scottish Government published their new anti-blacklisting guidelines.
First Minister Alex Salmond has warned firms caught up in the controversial practice they face a ban from public sector contract bids.
The publication of the guidelines coincided with a 'day of action' against blacklisting, a practice whereby firms use, compile, sell or supply details of individuals who are or have been a trade union member with a view to using that list to discriminate in relation to recruitment or treatment of workers.
The Procurement Reform Bill, currently before Parliament, will enable the Scottish Government to make regulations on how a firm's suitability to bid for contracts is assessed.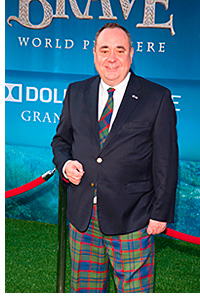 Alex Salmond said, "The Scottish Government is opposed to blacklisting in any form, given the serious impact it can have on the career, livelihoods and lives of those affected. Companies awarded public contracts must maintain high standards of business.
"As part of our on-going engagement with the STUC and interested Trade Unions, we have been considering how we can enhance current procurement guidelines, building on the existing assessments for bidders' suitability for such work, to tackle blacklisting. Everyone has a right to work and to raise concerns, including through a union. They should not expect to be inhibited in any way by choosing to exercise these rights.
"We are making it absolutely clear to any company wishing to tender to supply, build or service parts of our national infrastructure, that blacklisting will not be tolerated."
STUC General Secretary Grahame Smith said, "The STUC welcomes the guidelines. They make it clear that public bodies should only give new public contracts where blacklisting employers have taken appropriate remedial action in a number of key areas including an apology to affected workers, issuing a statement on future conduct and proving compliance with any tribunal ruling made against them. The STUC also welcomes the provision for the potential removal of an existing contract from any firm which is proven to have lied."
Scottish Building Federation Managing Director Vaughan Hart said, "(we) will always welcome measures designed to crack down on illegal employment practices. Clearly, the process used to determine if a company is guilty of blacklisting and whether any remedial measures it has taken are satisfactory must be as fair, open and transparent as possible.
"Such an approach is a prerequisite for avoiding potentially time-consuming and damaging legal disputes. Subject to this proviso, we fully support the new guidelines brought forward."
Blacklisting: the story so far
• Feb 2013: A BBC investigation finds that at least 111 workers from Wales were on TCA's blacklist.
• June 2013: The GMB union lodges a High Court compensation claim for 70 members blacklisted by construction firms.
• 11 Sept 2013: Wales becomes the first country to try to outlaw the practice (The UK government apparently considered legislation as early as 2003 but took no action because no hard evidence of blacklists could be found).
• 12 Sept 2013: Alex Salmond's Procurement Bill is sent to the Scottish Parliament, pledging that it will go even further than Welsh legislation, by regulating how companies are selected to bid for public contracts.