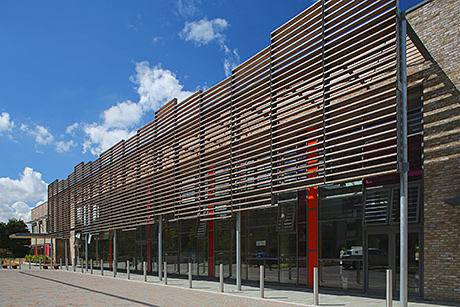 AN £18million education facility has achieved a BREEAM 'Excellent' rating thanks, in part, to the use of Senior Architectural Systems' groundbreaking Hybrid curtain walling, door and window systems.
Funded by Haringey Council as part of its Capital Funding Programme and believed to be the first of its kind in the UK, the 6,000sqm Broadwater Inclusive Learning Campus, designed by architects Gollifer Langston, amalgamates three schools including a mainstream primary school and two special needs schools, at Broadwater Farm in Tottenham.
The two-storey school was programmed for delivery over three phases to enable the existing schools to remain open during the construction process. Phase one included the construction of around 50% of the new concrete frame building, which included classrooms for reception and years one and two, together with a hydrotherapy pool and main hall which benefit from copious amounts of natural light and ventilation through the incorporation of Senior's Hybrid Series 3 curtain wall system and Series 2 windows.
Fabricated & installed by Cardiff-based Denval Co Ltd, the Senior Hybrid curtain wall system offers an aluminium external profile providing exceptional performance, long-life and low maintenance with contrasting engineered timber internally to provide an ideal combination of aesthetics, high insulation properties and strong environmental benefits.
Powder coated externally in dust grey and internally in pine with a clear lacquer for added protection, Senior's Hybrid composite timber and aluminium system incorporates double glazed units comprising a laminated pane and a toughened pane for security and safety. The soft coat low-e units provide exceptional acoustic and thermal performance whilst reducing solar gain.
Phase two of the project included the demolition of William C Harvey and Broadwater Farm schools and the construction of the remaining areas including kitchens, offices, gym, music facilities and classrooms for years 3-6. To help meet the required BREEAM rating, the building incorporates a sophisticated building management system, including manually operated Hybrid Series 2 top opening vents within the Senior curtain wall system together with a high level of automated vent control. Actuators are built in to the Hybrid frames to enable automatic operation of the top light windows without the use of handles.
Finished in RAL 7037, louvres incorporated across the full span of the south facing main elevation have been colour matched to the Senior Hybrid curtain wall, powder coated at Senior's in-house coating facility. Glazed feature panels in warm pastel shades incorporated into the Hybrid Series 3 curtain wall to the entrance and common areas, pool and gym, add visual contrast internally and externally.
Senior's SCW aluminium curtain wall, meanwhile, provides an elegant treatment for the two-storey stairwell areas with the robust SMR aluminium curtain wall detailed for the entrance areas.
Phase three of the project included the demolition of the remaining sections of the original buildings and the creation of extensive external play and community areas.