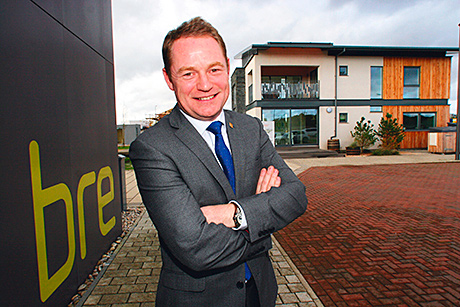 A Scottish company's design for an affordable energy-efficient home is being showcased in China.
Developed by AppleGreen Homes, "The Scottish House" has been lauded for its extensive and innovative use of recycled materials. It also features a solar energy package that draws on research at Glasgow Caledonian University.
The invitation to China followed a visit by Chinese Premier Li Keqiang to the BRE Innovation Park in Ravenscraig in 2011, where the house has been on show. In early November Scottish First Minister Alex Salmond and BRE director Rufus Logan (pictured, in front of the house at the Ravenscraig Innovation Park) attended a ceremony at the Beijing Green Building Park, where a version of the house was unveiled.
There are a lot of unknowns around the specifying of recycled materials for construction, and the design of AppleGreen's 'home for the future' has drawn on research in this area. Recycled materials are present in everything from the paintwork to major structural elements of the house.
The three-bedroomed detached home also highlights the work of Scottish interior designers.