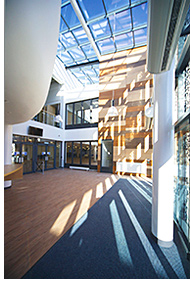 A range of façade systems from architectural aluminium glazing specialist, Technal, has helped to create a state-of-the-art learning facility in Bridgwater.
Chilton Trinity is a new secondary school designed by international architects Scott Brownrigg and constructed by BAM. The design and layout of the scheme were driven by the aim of transforming the educational agenda and creating a clear sense of place and identity that might inspire and elevate the experience of students, staff and future generations.
The building concept revolves around the curved form of the 'hive' – a central, multi-functional venue that sits prominently within the glazed entrance atrium. The school is separated into teaching 'federations' that radiate from the vibrant 'heart' space, allowing the building to adapt to a variety of teaching and pastoral environments and have an attractive campus feel. Corridors have been avoided by re-using the spaces for informal break-out areas.
A key part of the design brief was to ensure high levels of natural light, which is recognised as a significant factor for creating a positive learning experience and research has shown that there is a direct correlation between the amount of daylight and curriculum results. To achieve this, Technal's GEODE-MX Visible Grid curtain walling was used on every elevation – for the full height entrance atrium, teaching spaces, informal breakout areas, swimming pool and sports facilities.
Top hung FXi65 casement windows naturally ventilate the school and were used as ribbon glazing, inserted into curtain walling in the main entrance façade, and in composite configurations of up to five units to create large bays for the classrooms in each of the three curriculum wings. There were also some single windows to the office areas.
Technal's GEODE-MX roof glazing encloses the atrium and automatic actuators were fitted to open the windows in the vertical entrance façade when required. All the systems were fabricated and installed by Glassolutions Installation, and finished in dark grey to complement the white render, low-level brickwork and the timber-coloured rainscreen cladding.
Commenting on the glazing requirements for the project, Oliver Thomas, project director at Scott Brownrigg, said, "From a design perspective, we wanted to use one system in a variety of locations and configurations without the need for any adaptation, and a product that would give us repetition, consistency, and ease of fabrication and installation. We were looking for a good quality system that achieves the balance of performance and appearance to help us create the educational environment we aspired to achieve. We have used Technal's products on other projects and on this scheme we found them to be very effective and highly appropriate."
"As a glazing solution, aluminium is low maintenance, slim, light and robust – making it ideal for a demanding secondary school project. The finished scheme looks unique and distinctive and has been very well received."
The new Chilton Trinity School also goes beyond the required standards for environmental performance. As well as achieving high levels of natural light and ventilation, it uses horizontal shading on the south-facing façades to control solar gain in the summer months, and vertical shading on the east and west elevations to prevent glare from the low winter sun. The building also features solar panels and a biomass boiler.
Technal says its GEODE-MX curtain walling can be used to create a wide spectrum of architectural compositions from a single grid system.