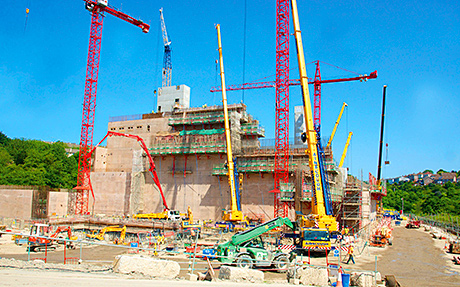 A-PLANT has announced the rebrand of its A-Plant Acrow Formwork and Falsework Division to Leada Acrow.
Ashtead acquired market-leading Leada Acrow over a decade ago and successfully integrated it into the A-Plant business, operating it as A-Plant Acrow.
The decision to rebrand as Leada Acrow has been taken to provide the division with a greater and clearer identity within the formwork, falsework and groundwork industry, allowing the company to build on the history of Leada Acrow.
A-Plant's Strategic Accounts & Marketing Director Asif Latief said, "As part of our Marketing plans for A-Plant Acrow we wanted to update the brand and we believe that the Leada Acrow name not only leans on the enviable history of the company but also clearly communicates to customers what we offer, while creating a totally fresh look for the division.
"Leada Acrow will be led by Simon Coveney in the same way A-Plant Acrow is run now and it will sit within the A-Plant family of companies such as Eve Trakway and PSS.
"We very much see that this move will help provide the business with its own identity whilst giving it the opportunity to grow further and reach its undoubted potential".
Leada Acrow's Director Simon Coveney can also see the potential. He said, "Leada Acrow led the way in the UK for many years and lots of our customers to this day still refer to us as Leada's, therefore it seems only natural that we utilise the strength of the brand.
"It has been a progressive year for the business.
"We've launched a new website, deployed the latest Apple iPad technology to our Sales Engineers, appointed a new Technical Director and agreed a historic deal with MEVA to be the sole supplier of hire equipment in the UK.
"All this combined with the development of the new identity really gives us the platform to become the number one rental supplier of formwork, falsework and groundwork equipment in the industry".