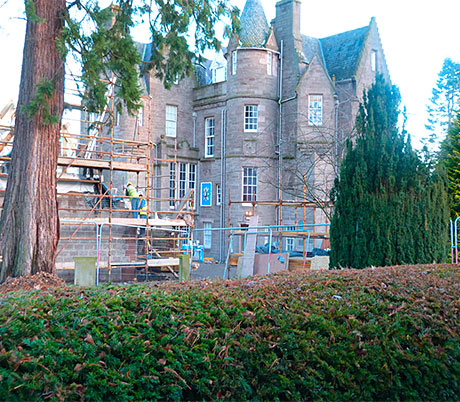 The £3 million regeneration of a historic Perthshire castle has reached completion with the installation of the roof to its adjacent museum.
Balhousie Castle's Black Watch Museum has been supplied with the A. Proctor Group's Roofshield breather membrane whose unique vapour and air-permeability characteristics allow even the most complex of pitched roofs to breathe – without the need of traditional air gaps or fiddly, secondary venting products. In addition, Roofshield is as easy to apply as traditional roofing felt.
The castle, in Perth, dates from 1631, although its origins are believed to go back much further than that. After falling into neglect in the early 19th century, Balhousie was virtually rebuilt and extensively remodelled in the 1860s in the Baronial style by the architect David Smart.
Originally the seat of the Earls of Kinnoull, the castle became the Regimental Headquarters and Museum of the Black Watch in 1962, displaying the history of the regiment from 1739 to the present. The Black Watch Heritage Appeal raised the £3 million needed to develop Balhousie to provide a permanent home for the museum and archive of the regiment.