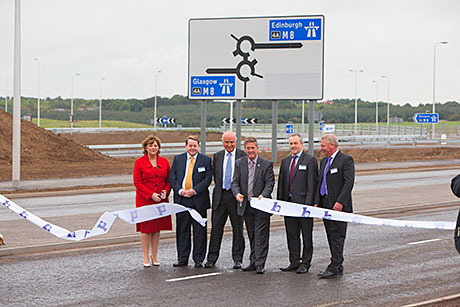 One of the largest regeneration projects in Europe, the Heartlands Development at Whitburn, has received a major boost thanks to the completion of a new motorway junction that gives direct access from the M8.
Funded by RBS and built by Balfour Beatty, the new intersection is the first in Scotland to be entirely privately funded. It has taken 12 months to complete, on time and on budget.
Developed by Ecosse Regeneration, Heartlands comprises nearly two and a half square miles of land on the site of the former Polkemmet Colliery. Plans for the development, which sits halfway between Glasgow and Edinburgh, include 2,000 homes, as well as leisure, education and community facilities and a vast business park.
Balfour Beatty's Hector MacAulay says: "We are delighted to be responsible for the design and construction of this new strategic junction on the M8. It is encouraging that Ecosse Regeneration selected the Scottish construction industry to deliver this first privately funded junction on Scotland's motorway network."
Keith Brown, Minister for Transport, says: "It's great to see this new motorway junction completed on time and on budget with limited disruption to M8 traffic. By providing direct access to the key route connecting Scotland's biggest cities, Heartlands has the opportunity to become a major residential and business location."
Ecosse Regeneration, which began work in 2004 to decontaminate the former mining site, has taken great care to maintain and improve the local environment and ecology.
"Heartlands will help to drive the economy of Scotland's central belt," says the developer's Alex Muirhead. "We have a fantastic opportunity to create a vibrant community that will attract high-quality skilled employment to the area and stimulate investment in the region.