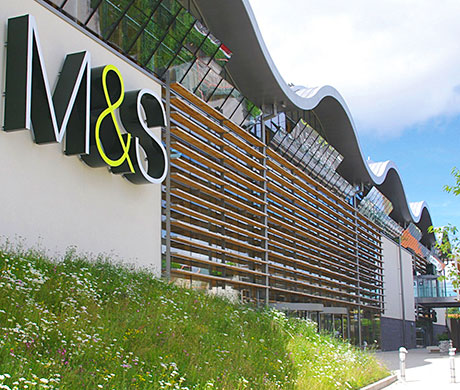 Alumasc's Harmer SML cast-iron soil and waste system has been installed at the new Marks & Spencer flagship store at Cheshire Oaks designer shopping outlet in Ellesmere Port.
Cheshire Oaks is the second-largest M&S store in the world, measuring nearly 150,000 square feet across two floors. It boasts a full range of eco-credentials and was created using a number of low-carbon technologies. Marks & Spencer says it is one of the most carbon-efficient retail stores in the world, with a holistic approach to key sustainability factors such as water, biodiversity, the community, materials and zero waste to landfill.
The store has been planned and constructed on a significantly bigger scale than the company's previous eco-stores and its sustainable credentials are impressive, with hemp walls, glulam timber girders, rainwater recycling and biomass heating systems, plus a huge 'living wall'.
The Harmer SML system forms part of the store's carefully considered rainwater management strategy that also includes an 80,000-litre rainwater management tank and sustainable urban drainage. SML is a lightweight cast-iron system that is 100% recyclable, making it the ideal choice for a scheme in which all of the materials used were either natural or recycled.
Advances in cast-iron technology have ensured that Harmer SML products are fully attuned to modern construction needs. SML systems meets the new UK requirement for CE Marking, and Alumasc has recently introduced new ductile iron brackets which speed up the installation process.
Wayne Willmott at Harmer Drainage says, "The CE Mark and new brackets are just two of the customer-focused features that make this the market-leading system for easier specification, greater choice and simpler installation.
"Advances in cast-iron technology have ensured that our products are fully attuned to modern construction needs. The system is durable, recyclable, quick and easy to install and requires low maintenance."
Marks & Spencer was one of the first UK high-street retailers to focus significantly on combatting climate change. It launched its Plan A in January 2007, setting out 100 commitments to achieve within five years. This has now been extended to 180 commitments to achieve by 2015, with the ultimate goal of becoming the world's most sustainable major retailer.
Manufactured in Germany to meet the highest quality and performance standards, Harmer SML carries British Board Agreement Certification 05/4191. The pipes and fittings meet the European Standard BS EN 877, further assured by the new CE Marking, showing full compliance with EU manufacturing, testing and technical performance requirements.