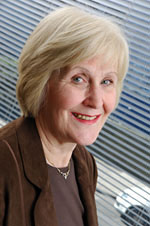 A leading credit controller has urged contractors to run credit checks on their prospective clients prior to embarking on construction projects.
Margaret Fowlis, manager of FD Ross, a sub-division of French Duncan Chartered Accountants specialising in credit control and debt collection, advises contractors to join trade body Scottish Building Federation to ensure that they have access to all the information and advice they will need to survive the challenges of the current economic climate.
Fowlis, who recently recouped £160,000 on behalf of a contractor, said: "The latest output figures for the UK construction sector reveal a deepening crisis in the industry that is placing recovery in the wider economy at risk.
"There has been a significant decline in new work across the public and private sectors so it is essential that when a contractor does embark on a new project for a new client that they know that the funding is in place to pay them."
Fowlis advises contractors to be specific in their invoices and their applications for payment and, if they are not already members, to join Scottish Building Federation for advice on submitting applications and quotes.
"Given that many contractors are not in a position to walk off a development due to lack of payment due to the risk of being in breach of contract, it is vital that they seek professional advice to ensure that they are pursuing and following the correct procedures," she said.