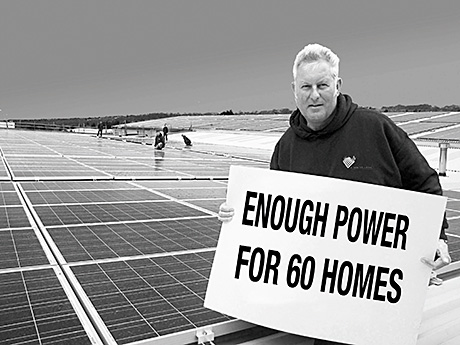 IT has been dubbed the ultimate rooftop power station, producing enough electricity for 60 houses.
The installation, the latest phase of which has just been completed, is one of the largest factory solar panel projects 
in the UK and saves West Midlands extrusions company Selecta Systems £16,500 a month in electricity bills.
It produces enough electricity to keep the factory working round the clock seven days a week and was completed
in just seven weeks – two weeks ahead of schedule – to give the client a bonus of several thousand pounds.
Installation was by A1 Solar UK Ltd whose managing director 
Paul Grinsell commented: "This is the forerunner of many similar schemes planned for the UK, as companies large and small realise just how
much money that can be saved, while ensuring continuous power to run a factory."
A1 Solar used 10,000 metres of cable and 60,000 bolts to fix the roof mountings. It installed several Fronius Inverters and various units to convert the DC power into AC, along with associated control equipment.
The system is now generating 400KWp instantly in optimum conditions, 289,332 kWh per year and will generate 
6.85MW of electricity over 20 years. At today's prices that would represent a saving of more than £4m on electricity bills
while also reducing carbon emissions, with a tax saving of over 59 tonnes.