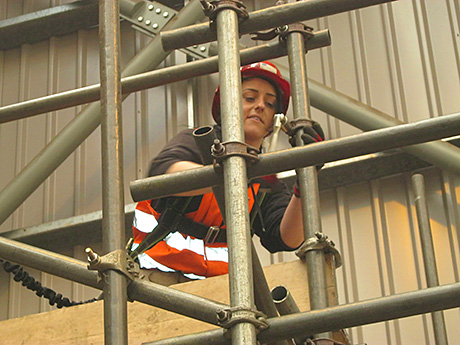 CISRS has been busy training two scaffolding sisters at a Scottish training centre – proving the depth of diversity in UK scaffolding training schemes.
The girls, Kelly Hay (28) and Connory Hay (21) from Double Kwik Scaffolding Ltd in Methil, Leven, Fife are both enrolled as scaffolding apprentices with National Construction College Scotland (NCC) at Inchinnan.
Kelly Hay said: "My sister, Connory and I are employed as apprentices by our father Mr William J F Hay at Double Kwik Ltd – which I will be hoping to run as my own company in the future. We are the forth generation of scaffolders in our family and I started working in the business aged 18. I soon realised I wouldn't be able to price for work if I didn't know what type of scaffold would be needed and what the job was for – so I thought I should get the proper training and work my way up. I completed my Part 1 early in 2012, my Part 2 in December 2012 and I am back again on the 29th April 2013 to do my final assessment.
"When doing my CISRS Part 1 and 2, I have to admit that I absolutely loved it. My sister Connory could not wait to get back to college either. My instructors were fantastic. They saw me as a person –not male or female – and they taught me really well. No matter how long you have been doing scaffolding – one year or 10 years – I think there's always more to learn at a CISRS college.
"Both of us learned so much about health and safety, the correct procedures for erection and dismantling of scaffold, how to work as a team and more. I could not fault the CISRS programme. I would recommend the courses to anyone.
"I feel I have a little more to prove being a woman in a man's job, as it's not that common for a woman to be in the scaffolding industry. But I hope I show that a woman can do the job, if fully committed. I feel I can work really well with male scaffolders – once they realise I really can do it. I have 10 years experience now but I am not afraid to ask questions, as there are still many things I'm learning."
CISRS Training Manager, David Mosley said: "It's fantastic to get such diversity on our courses; it is rare to get young women wanting a career in scaffolding. We are open to all at CISRS and want to encourage all of those who are interested in a career in scaffolding onto our excellent training programmes.
"The two sisters have been extremely positive about the experience of our CISRS courses, which I think is something we should be very proud of. CISRS training should be seen as a real opportunity for a young person that can lead to a varied and interesting career in construction, offshore, nuclear, overseas, health and safety, it gives you lots of options."
For further details about the CISRS and NCCS and the courses available, please visit www.cisrs.org.uk or email enquiries@cisrs.org.uk.