Envelope contractor Prater has racked up a hat-trick of projects in Scotland's education sector.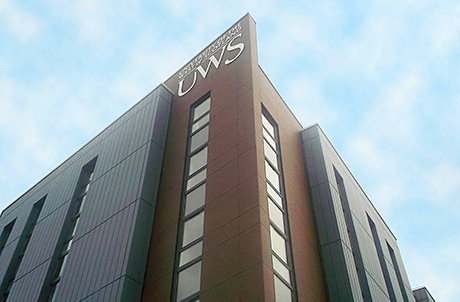 THE trio is made up of Eastwood High School in East Renfrewshire, West Scotland University's Paisley Campus student residence and Aviemore Primary School.
Eastwood High School is being built alongside an existing property and will be used to pilot and establish best practice models as local authorities look to achieve best value for money.
Prater is supplying and installing the specially designed roof using a hot-melt system to a concrete base – on to which a green roof will be installed – and a single ply membrane roof including a metal deck. Facades are made up of flat composite cladding, a PPC rainscreen system and a Corten rainscreen system on to a propriety carrier system. A soffit cladding system is also being installed.
At Aviemore, Prater installed a Kalzip aluminium roof system selected mainly for its thermal and acoustic performance that contributed to a BREEAM rating of 'very good'.
The school's location meant the roof also had to meet critical load and aesthetic requirements. "Aviemore is situated in the heart of the Cairngorms National Park," said Andy Newman, business development director at Prater. "This means the roof design has to be able to withstand heavy snow loads. Equally important is the impact the building has in what is an area of outstanding natural beauty. The roof was therefore specified with a patina finish that minimises reflection from the sun."
Rounding off the trio is the roof, render and rainscreen cladding for the £13.2m Paisley Campus student residence. The halls, part of a £250m investment programme, saw Prater deliver the entire external envelope with the exception of the windows. The roof is Kalzip standing seam, combining the practicality of total weather protection and excellent thermal/acoustic properties with visual appeal.
A Dryvit render system uses 180mm thick EPS insulation fixed to the structure, with a 7mm coat of render applied. The render incorporates a reinforcing mesh to deliver excellent strength, while the EPS insulation provides the desired thermal properties.
In addition, Prater installed two rainscreen cladding systems that worked together to give the buildings their distinctive and attractive architectural styling.
The brown sections of the façade are made up of Petrarch panels by CEP Claddings. These provide the look of natural stone in a large panel form that is durable, maintenance free and highly resistant to impact.
The dark grey sections have been created using a pre-weathered titanium zinc Rainscreen system by metal façade specialist CGL Systems.
Also in the education sector, local contractors are being sought to help Robertson deliver the £29m Harris Academy, the first project to be delivered in Dundee by Hub East Central.
The existing school will be demolished and replaced by a new facility as part of the £500m investment in construction projects throughout Tayside, Fife and Forth Valley.
Robertson recently held a meet the buyer event to give local sub-contractors the opportunity to join the supply chain and win some of the work packages available during the three-year project.
Demolition of the existing building is scheduled for autumn. Construction will complete in June 2016.
Images – Prater's products at Paisley and Aviemore.