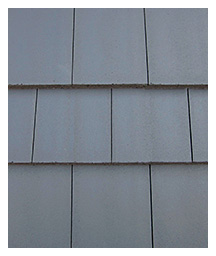 Redland is introducing a new, darker grey colour to its Mini Stonewold product range.
The existing Slate Grey colour presents a mid-grey finish that comes from the through-coloured construction of the product. However, in order to satisfy customers looking for a darker grey, Redland is launching Mini Stonewold in the new Charcoal Grey colour.
The colour is achieved through the application of a dark grey coating over the top surface and edges of the slate grey tile body to give a rich hue.
"Mini Stonewold is one of our most flexible and economical concrete slate products, featuring interlocking edges for simple construction," a spokesman explained. Mini Stonewold is a flat concrete slate that can be laid at pitches as low as 17.5o in new build or re-roofing projects.
The Mini Stonewold Charcoal Grey is offered with a matching half slate pair together with an 8.8k ThruVent, complementary universal angle fittings for ridges and hips as well as a RedLine vent tile. All dimensions, pitch parameters and headlaps are the same as existing Mini Stonewold colours.