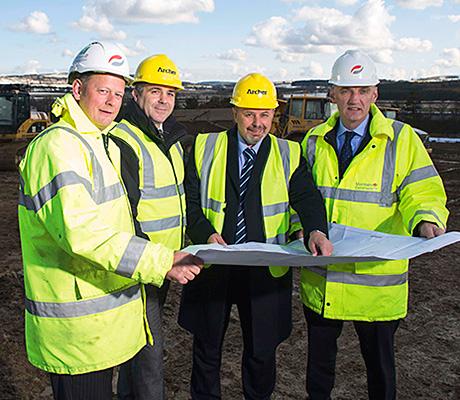 MORRISON Construction has started building a new base in Aberdeen for a global oilfield service provider.
The contractor expects the warehouse and workshop facility to be operational in September with the main office building ready for occupancy before Christmas.
The facility will house 170 employees of oil firm Archer which is relocating to Blackburn from four existing bases in Dyce and in Echt, near Westhill. Due to an increase in activity the company is in the process of recruiting 220 additional employees by the end of the year to support its North Sea operations.
Included in the construction programme are a three-storey office building and gym, a separate workshop and warehouse facility with office space, and a three-acre concrete yard.
The facility is being developed by Kingseat Development 3 Ltd, a joint venture of Morrison Construction and Ninth Avenue LLP.
Mike Bruce, regional director of Morrison Construction's North East business, said: "We have a proven track record in the delivery of many major commercial projects and this latest award complements our growing portfolio of construction projects for the oil and gas sector. "Our complete property solution initiative is a natural extension of our design and construction expertise. This involved working closely with all parties on building design and management of consents procedures, funding and leasing requirement, as well as the actual construction of the development.
"Our early involvement with Archer on this project will ensure the delivery of the site and facilities required for current operations and future growth and we look forward to completing Archer's Aberdeen HQ on schedule."
The project is seen as important in supporting Morrison's local supply chain partners with the majority of the works being carried out by local tradesmen and businesses within a 30-mile radius of the site.
Kenny Dey of Archer, commented: "The new Aberdeen base signifies the continued growth of Archer in Aberdeen and the North Sea region. It will allow us to service the needs of our clients, to plan and prepare for future growth due to the increased space and facilities, and it also places us in a stronger position to attract new personnel.
"We are pleased with the prime location of the site at Blackburn as well as the improvement in facilities for our employees such as a gym and serviced canteen, while travel times will continue to improve with the AWPR now underway."
Archer employs 8,300 personnel through 118 global locations, with key regional bases in the North Sea, Middle East, Asia, North and Latin America. It creates new wells, or equips those already in service to produce oil and gas profitably and safely, with no harm to people or the environment, across the longest possible timeframe.
Image – Let's get started: (from left) Graeme Hay of Kingseat Development 3, Kevin Morrison and Kenny Dey of Archer and Mike Keith, Morrison's finance director in Scotland.