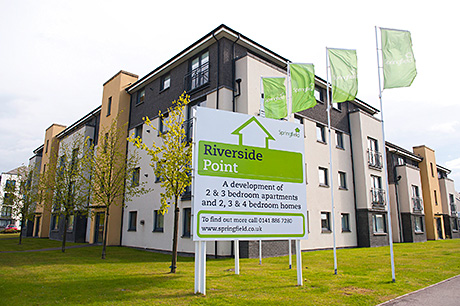 A house builder has achieved a near 20% increase in sales in the first quarter of the year to underline its belief that confidence is returning to the market.
Springfield Properties revealed that across its 22 developments in Scotland it secured more than 100 private reservations in the January-March quarter, traditionally considered to be slow months for the industry. The Elgin firm said it demonstrated a 19% increase on its position in the same period in 2012.
Two thirds of sales were from central belt developments in Motherwell, Lenzie, Glasgow and Edinburgh. The strongest selling site of 2012, at Braehead in Glasgow, continues to sell well.
While sales in the north-east of Scotland continued to benefit from young first-time buyers working offshore and with larger deposits, it also recorded a large number of buyers moving from ex-local authority properties.
Other developments, from Kilwinning in the west to Dalkeith in the east, have attracted interest following the launch by trade body Homes for Scotland of the MI New Homes initiative that offers 95% mortgages to prospective first-time buyers.
The initiative hopes to get 6,000 people on to the property ladder in the next three years and is estimated to add £960m to the Scottish economy.
Managing director Innes Smith said: "We were one of the first home builders to join the MI New Homes initiative because we could see its potential for helping our customers to buy new homes."
The strong first quarter results come on the back of Springfield's healthy annual results for the year end to May 2012, announced in November, which saw it return a significant rise in headline figures, with turnover up 32% to £53m from £40m and profit rising to £3.9m, a 56% rise on last year.
During 2012, Springfield handed over 190 private homes and 235 affordable houses. Chairman Sandy Adam said the company will become busier over the coming months as more land is added to the portfolio.
"The move by the industry body to introduce MI New Start has been most welcome and we welcome the changes made to the planning process to help stimulate the sector. At present we have over 1,000 potential new homes in the planning system.
"We particularly support the changes which aim to make the system less focused on process and more focused on good, well-timed outcomes, which are essential for economic recovery. It currently takes on average 22 months for us to deliver a home; 18 months in planning and four months to build. The new system promises to speed this up."
Image – Riverside Point is the biggest-selling development.