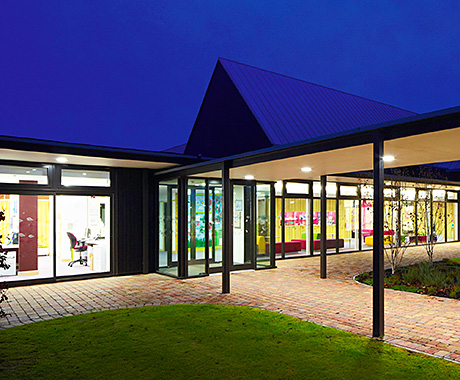 ONE of the first applications of a new low-rise glazing system has landed a clutch of awards.
Forest Park School is a new primary for children with learning difficulties. Designed by Hampshire County Council's in-house architects and constructed by Morgan Sindall, the building is a child-centred facility that has now been acclaimed with a series of awards and accolades.
The school, which features extensive use of the MODAL façade system, won a top award at the Solent Design Awards which recognise the best designed buildings in Hampshire and the Isle of Wight. Judges praised the building and "a terrific resolution to a complex brief where the attention to detail has been superb".
The school has also received a Civic Trust Award and an RIBA award for "high architectural quality and contribution to the local environment". RIBA judges said: "The architects have created an extraordinary place in which pupils feel special… in which the children's needs are primary to the design."
The scheme is a collection of low-rise buildings interlinked by a series of canopies and arranged around a number of courtyards. Outer walls are of brick with inner façades of dark timber and glass, and a combination of dual and mono-pitched zinc roofs.
The low-rise façade system from Technal was used extensively throughout. Finished in dark brown with contrasting bronze doors, it is used as fixed light glazing and with FXi65 windows. Sound attenuated louvres provide additional natural ventilation, and the GXi sliding patio door, which is fully integrated with MODAL, was also specified, together with Technal's CD commercial door.
MODAL is described as a rapid-build low rise façade system, and the first in the UK to offer integral opening vents. Its modular design gives specifiers a wider choice of configuration options.
Image – "A terrific resolution to a complex brief."