The city centre is to be "reimagined" in a bid to retain its status as the top shopping destination outside London.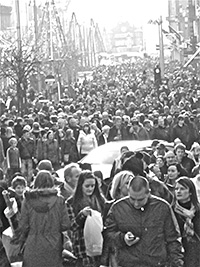 A development blueprint that involves the creation of special 'districts' has been placed before the city council's executive committee and is now out for public consultation.
The strategy will focus on specific streets and promote their unique characters or specialisms.
More than 50 proposed actions are be taken forward to ensure the proposals are achieved over the next five years. The report, which said the city centre must respond to the changing nature of towns and cities in general, builds on the success of a previous master plan that led to the creation of the International Financial Services District, the regeneration of the Merchant City and more than £1billion worth of investment.
Council leader Councillor Gordon Matheson will chair a new strategy board to oversee the first phase of the strategy, from this year until 2018. He said: "Glasgow city centre is a vibrant shopping area, which survey after survey ranks among the best in the UK. However, we have to maintain the momentum and ensure that our city centre continues to grow and develop in the right direction, creating jobs and opportunities for all Glaswegians.
"A strong city centre is a dynamic location to live, work, play and visit. We are very aware how important our city centre is in helping to attract new investment and business. This new strategy and action plan has come from a collaboration of the city's business leaders and public sector leaders and we believe will meet the challenges of maintaining and expanding our city's economic competitiveness and regeneration over the coming years.
"I am determined that this new way forward for Glasgow will see more new jobs, homes, business and residents living, working and enjoying a world class city centre."
Among the objectives of the strategy is to increase residential development in the city centre.
Districts which have been identified as important in terms of character or specialism are:
• Anderston
• Broomielaw
• Centre
• Cowcaddens
• Merchant City and High Street
• Sauchiehall
• St Enoch
• Townhead
• University and Cathedral
Image – Glasgow city centre has 28,000 residents, 150,000 jobs, 70,000 night-time visitors each weekend night, generates 34% of the city's over-all GDP, has an annual retail spend of £2.6billion, and attracts 100,000 commuters every weekday.