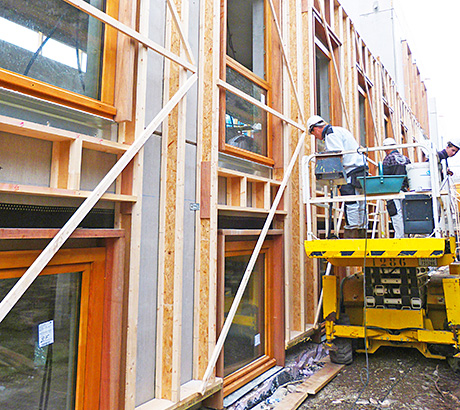 A Scottish company is making inroads into the French construction market.
The timber systems division of James Jones & Sons is distributing its JJI-Joists through a company based in the Vendee region. France Poutres is a family-run business which manufactures and distributes its own all-timber I-joist and is now also supplying JJI-Joists, promoting them as a cost-effective alternative for floors, walls and roofs.
Mark Tilston, business development manager for timber systems at Jones, said: "In 2012 and continuing in 2013, we saw significant developments in the use of JJIs for roof and floors in France but more innovatively, the industry in France is also using JJIs externally, to help meet current thermal regulations."
By using JJIs as external cladding around concrete buildings, specifiers have been able to add extra insulation simply and cost–effectively so that thermal regulations can be met.
Closer to home, Jones has been supplying JJI-Joists, via Pasquill, to an apartment development in Edinburgh by Miller Homes.
Tilston said: "The building required large, flat roofs, with 'firing pieces to create a slope, giving the gull-wing effect the design required. The spans were up to nine metres in places and this project showcases the span capability and design flexibility of the JJI-Joist".
Image – The joists being applied externally to a concrete building in France to meet thermal regulations.