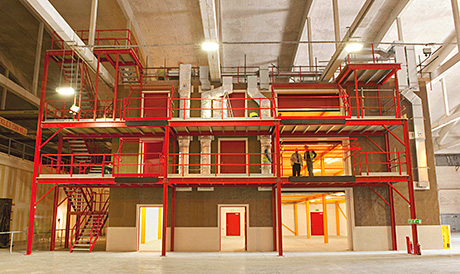 AN off-site panelised building system played a crucial role in helping two projects gain recognition at this year's Greenbuild Awards.
The awards, presented by Patrick Kielty at a ceremony in Manchester – are made in recognition of 'true achievement' in low-energy building projects that reduce environmental impact.
Taking top spot in the leisure and retail category was Marks & Spencer's flagship development at Cheshire Oaks where 240 Hemclad panels from Hemcrete Projects were used to construct the external walls and are already helping the retailer realise promising signs in terms of performance.
It was a similar story on the Workplace Newbuild category, where the Science Museum Group's project for its new storage facilities lifted the title. Literally a building within a building, the new archive facility at Wroughton has been built inside a WW2 hangar using the Hemclad wall panel system.
Housing more than 16,000 items, the structure was designed to deliver thermal performance and humidity parameters to preserve the collections. Again, the facility is meeting a raft of performance and key sustainability indicators.
Hemcrete's technical director and vice chairman, Ian Pritchett said: "We are obviously delighted for both teams involved at M&S and the Science Museum. The projects are truly pioneering and innovative in every sense of the word. Indeed within the field of sustainable construction, these projects are set to form benchmark industry standards moving forwards.
"We are equally delighted for the confidence that both clients have shown in adopting new and sustainable systems technologies such as Hemclad. Not only does the award's success validate their decision to embrace new ideas and methodologies, so too does the post-occupancy performance data that has so far been recorded."
The Hemclad system is based around a bio-composite building material made from hemp shiv (the woody core of industrial hemp) mixed with a lime-based binder – Tradical Hemcrete., When used in conjunction with hemp fibre insulation quilt, Breathe, the product delivers a blend of insulation and thermal inertia.
As well as exceeding expectations based on conventional steady state U-values and standard thermal modelling, the panelised system is a negative embodied carbon product. This arises due to hemp capturing carbon dioxide during its rapid growth, whilst releasing oxygen back into the atmosphere. The carbon is then 'locked up' in the walls of the building to give a carbon negative solution.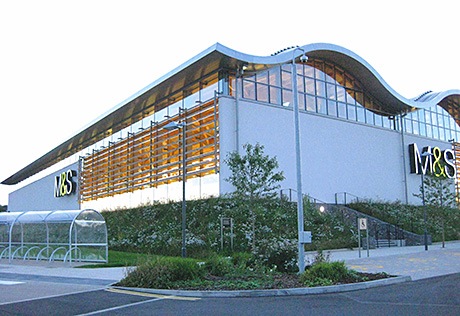 Images – The 'building within a building' and (inset) the Marks & Spencer development.