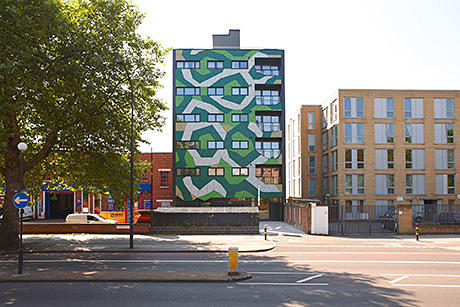 USING Trespa's Meteon panels, a £2m affordable housing scheme in London includes latticed façades inspired by ivy vines.
Featuring shared ownership, social rent and large family-sized housing, the 21-unit development by housing association Family Mosaic revived a brownfield site in Elephant and Castle, one of London's most deprived areas.
The building's distinctive front and rear façades are designed to resemble creeping vines, in the form of triangular cladding on the front and rear elevations. These are supported by heavier flanking walls.
Nazar Sayigh of Glas Architects explained that from the initial concept, there was a desire to produce a seemingly complex and bespoke facade. And Trespa's Meteon panels provided the solution. The panels had the design flexibility that Glas required to create the distinctive façade. Panels are also vandal-resistant, tough and easy to keep clean and retain their appearance over a long period.
The products can cope with extreme climate changes. Both the UV resistance and colour stability of the vertically-applied decorative surface comply with the highest score classification 4-5 measured with the grey scale according to ISO 105 A02. Other key benefits are a pore-free surface structure, ensuring that practically no dirt accumulates; guaranteed high impact resistance; and inclusion in one of the most favourable fire-retardant classes.
Image – The vine-motif façades are vandal-resistant and easy to maintain.