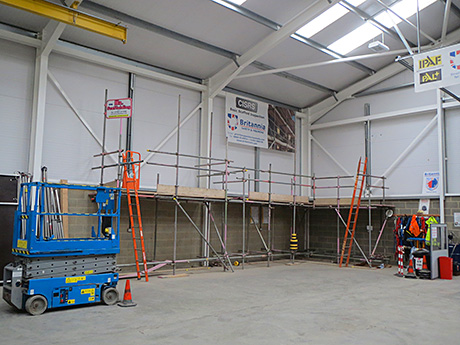 CISRS training continues to thrive despite continuing tough economic times – with four new training centres gaining accreditation in the first four months of 2013.
The newly accredited training providers – Muehlhan Training of Paisley in Scotland, Systems Scaffold Manufacturer Haki of Tamworth, Harsco Infrastructure at Immingham in Humberside and Britannia Training at Wymondham in Norfolk – highlight the continued high demand for CISRS qualifications within the scaffolding industry, bucking the trend of the UK's current economic downturn.
In February Muehlhan Training of Paisley, Scotland gained accreditation for CISRS SSPTS training in Layher, Cuplok and Scafom Ringscaff and also the CISRS Basic Scaffold Inspection Training Scheme (SITS). And now both of these popular scaffolding courses can be undertaken at their centre just outside of Glasgow or on site.
After moving to new premises, Systems Scaffold Manufacturer Haki of Tamworth regained CISRS accreditation for SSPTS training in their product. They have several large scaffolding contracting companies as customers and will be looking to meet their training requirements mainly via onsite training.
Harsco Infrastructure has recently opened a CISRS SSPTS centre at their depot in Immingham, Humberside in order to carry out CISRS SSPTS Cuplok training for their own workforce. This highlights a real commitment to the CISRS scheme, as Harsco have had long history of training their employees on their product through in-house training. And as one of the largest scaffolding companies in the UK, CISRS really values Harsco's decision to adopt SSPTS in order to qualify their workforce.
Most recently, Britannia Training in Wymondham, near Norwich in Norfolk has transferred from "in-house" provision to working under the CISRS banner. They gained approval to deliver the CISRS Basic Scaffold Inspection Training Scheme (SITS) in April. And with clients such as Morgan Sindall on their books, Britannia felt it was essential that they offered industry recognised Scaffold Inspection Training in order to best serve their growing customer base.
Interestingly, showing a marked increase in the use of system scaffolding and system training in the UK, three of the four new CISRS-accredited training providers have focussed on the System Scaffold Product Training Scheme (SSPTS).
CISRS Training Manager, Dave Mosley said: "It's always great to see new training providers coming on board with CISRS and considering the current economic climate leading to a downturn in training in many other sectors to gain four accreditations in as many months is excellent news. This will greatly increase availability for those seeking System product and Scaffold inspection training.
"After a relatively limited uptake on CISRS Systems training initially, the sector is beginning to see an increased demand from NASC, HSE, UKCG as well as smaller clients for proof of CISRS training for those using systems scaffold products. These new centres will be crucial in satisfying the demand for this type of training."
For further details about the CISRS and courses available, please visit www.cisrs.org.uk, email enquiries@cisrs.org.uk or call 0844 815 7223.