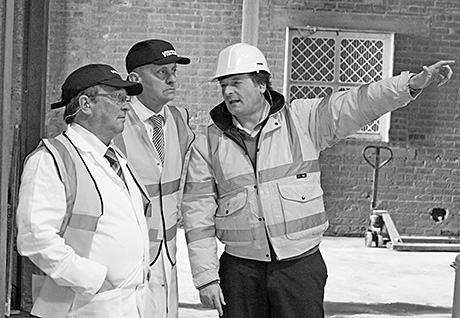 Superglass Insulation welcomed members of The Builders Merchants Federation to its manufacturing plant in Stirling recently.
BMF managing director, John Newcomb and Graham Bolton, the newly-appointed manager for Scotland, were shown the transformation of the plant following investment.
Engineering director Mark Atherton and sales and marketing director Allan Durning were on hand to show John and Graham the progress being made as Superglass transforms its manufacturing capabilities in order to provide its merchant customers, and in turn BMF's members, with the best in class insulation solutions.
Durning explained: "As the only UK independent manufacturer of glass fibre insulation we are pleased to have the support of the BMF and to meet with both John and Graham to discuss and exchange goals and ambitions for the future.
"Similar to Superglass, the BMF has recently undergone a significant period of change in terms of rebranding and operational restructuring. We are therefore enthusiastic to share our new business objectives as both Superglass and the BMF look to serve the building and merchant community."
Image – Mark Atherton with John Newcomb and Graham Bolton during their tour of the plant.