SIX bus depots in England and Scotland have taken steps towards a greener future by generating clean on-site energy with Kingspan's roof-mounted PV system.
The installations are part of a series of initiatives by National Express to reduce energy consumption across its operations. In the last year alone the scheme helped save more than 3,400 tonnes in CO2 and led to the firm being awarded the Gold Standard by independent advisory board Carbon Saver.
The system made a key contribution to the savings with modules retrofitted on to roofs at West Midlands, Coventry and Dundee depots. Kingspan Insulated Panels' team of PV engineers carried out detailed surveys of the structural strength of each roof and designed, positioned and installed the system's arrays.
The arrays are capable of generating a combined power output of 278.24 kWp and have been registered and accredited under the FiT scheme meaning that during periods when the power generated exceeds the depots' needs, they will also be able to feed carbon neutral energy back into the National Grid.
Kingspan's system is suitable for pitched and flat roof applications on new build, retrofit and refurbishment projects and can produce electricity in low light as well as in overcast conditions. It has also been shown to enhance the resale value and rental potential of properties by improving the building's Energy Performance Certificate rating.
Stuart Parker, environmental director at National Express, said: "Our Gold Standard from Carbon Saver reflects the amount of effort and resources we have put in to improving our energy efficiency with schemes such as the installation of the Kingspan PV modules."
Alongside the installation of the Kingspan Roof Mounted PV System, National Express has also introduced a number of other energy saving technologies across the company including voltage optimisation systems, LED lighting and energy management systems.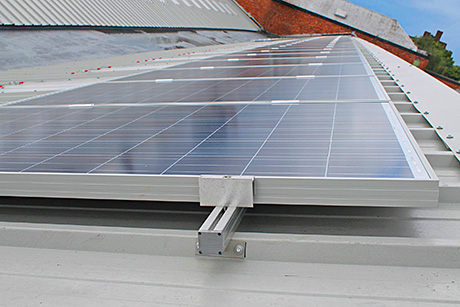 Image – Top, The installation at Dundee and above, a close-up of the installed system at a project in England.