Joint venture will focus on slashing energy needs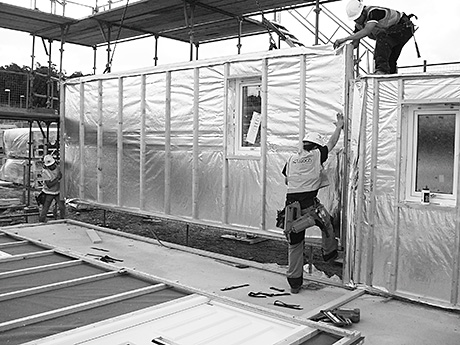 ABERDEEN academics are to join forces with a developer, an architect and the wider construction industry on environment-friendly housing.
By adopting a 'fabric first' approach – where the choice of building materials and construction techniques focus on energy efficiency – the aim is to create homes with reduced energy needs.
Funding has been approved for a feasibility study that will support the project to develop the affordable homes at Blackdog within Energetica, described as 'Scotland's energy corridor'.
Energetica is a 25-year scheme to create a sustainable development corridor between Bridge of Don and Peterhead and which will serve as a global showcase for energy technology development and energy efficiency. It is an Aberdeen City and Shire Economic Future (ACSEF) project.
Funding of £10,000 from ACSEF has been approved for the feasibility study that will explore the use of innovative materials in the design and construction of housing that will combine affordable construction and running costs with aesthetic values.
The Scott Sutherland school of architecture and built environment at The Robert Gordon University is working with architect William Lippe, Scotframe Timber Systems and Blackdog farmer Colin Tawse.
Scotframe, a 'full kit' manufacturer and supplier, last year launched a new generation of building panel that has the capacity to cut heating and energy bills to virtually zero.
The intention is to initially construct 40 houses at Blackdog that will then be subjected to standard modelling and extensive pre- and post-occupation evaluations to assess their energy efficiency through the technologies used and the way that people live in the houses. The study is expected to influence future buildings on the site and hopefully the wider construction industry.
Feasibility phase will run through this year with the construction and monitoring elements following through to late 2015, subject to planning and building consents.
Derek McCrindle, project director for Energetica, said: "This project reflects the strategic importance of high performance, low energy, low carbon buildings to Energetica and the desire of all parties involved to add further value to the quality of the proposed housing at Blackdog in terms of both private sector and social housing."
Gerry Buda, business development manager at RGU, said the aim is to achieve best-in-class performance by using the most appropriate and best performing technology combined with renewable energy systems.
He added: "We will then gather robust data through monitoring and occupancy evaluation of the buildings so that future buildings can achieve the highest environmental standards whilst best meeting the needs of modern households."
Image – Scotframe launched its new building panel last year.