Aesthetics are key to stylish residential building
Roermond/Hannover – "The List" is the most highly populated district of Hannover, in the view of many, it is also the city´s most culturally diverse quarter. This is the area where the residential building co-operative Gartenheim eG this year renovated a multi-family residence which is home to a total of 18 tenants. Originally built in 1957, in the 1980´s this house was insulated with an external composite thermal insulation system (ETICS) and rendered in a light beige colour. Described as "dreary, uninspired and as boring as a hundred other houses in the surrounding area" by Dr Günter Haese, Director of the residential building co-operative Gartenheim eG, who developed, together with the architect Larisa Kozjak, the idea of renovating the façade in a way that would turn the building into a modern jewel.
Their concept to envelope the building with an uplifting colour scheme and at the same time creating the image of a warm 'scarf' around the building led to the development of a 'knitted design' for the façade. ROCKPANEL façade panels in six carefully-chosen RAL colours were 'knitted' into a stimulating, alternating light and dark coloured pattern all around the building. 'Haute Couture' is what the ambitious director named his modernisation project, which for several weeks now has invigorated the image of Isernhagener Straße in Hannover with its charm and striking style. "Here we've implemented for the first time a transformation from unappealing insulating covering to noble designer envelope.", says Dr Günter Haese, who has already set his sights on developing more buildings for Gartenheim eG that will soon be given a non-combustible and vapour-permeable stone wool façade insulation along with an attractively designed façade using ROCKPANEL cladding boards.
Aesthetically successful knitting pattern
The architect Dipl.-Ing. Larisa Kozjak remains intrigued by the creative possibilities that have been opened up by the use of the ROCKPANEL Rockclad façade panels: "We've replaced a purely functional yet unattractive surface with a highly expressive web structure that surrounds the building like a custom-made suit, so it becomes a feast for the senses instead of being a boring monochrome façade." However, nothing was left to chance when planning the 700 m2 façade: the deployment of each of the six colours was precisely planned in order to ensure a successful overall aesthetic look. "When using so many and such strong colours, one must be very careful to avoid giving the impression of a thrown-together, muddled mess.", notes Larisa Kozjak.
Good processing characteristics create a compelling look
Together with the installation company Voss Bedachungen and ROCKPANEL Larisa Kozjak planned the implementation of the entire façade construction in minute detail. 180 mm-thick 'Fixrock' stone wool insulation slabs from ROCKWOOL were mechanically fastened, without joints, onto the façade creating a fire safe insulated envelope. The Voss employees built an aluminium profile substructure onto which the ROCKPANEL façade panels were attached with rivets. The boards were, in line with the design plan, first cut in the workshop into strips of 2250 mm in width and 3050 mm in length and then mounted in a staggered pattern. "We adjusted the lengths on site with standard wood processing tools.", explains installation company owner Bernd Voss, who had first worked with ROCKPANEL façade panels two years earlier. "It's a construction material that I personally value very highly, thanks to its fantastic design on the one hand, but also for its processing characteristics. As a building professional, with ROCKPANEL you can deliver reliably first-class work, which gets both owners and planners quite excited – and of course that's good both for the builder's reputation and for securing new orders." Bernd Voss also had all of the fastening rivets lacquered and delivered by the manufacturer to match the RAL-colours of the façade panels.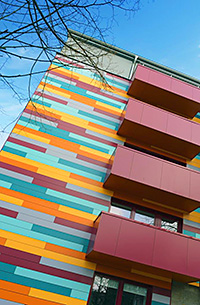 Sustainable makes for better living
"We also made a point of explaining the quality of the processed materials to our tenants", explains Dr Haese. "Both the insulation from ROCKWOOL and the façade cladding from ROCKPANEL are building materials which are recognised in sustainable construction. This means that their eco-balance is good and they are recyclable." ROCKPANEL façade panels are weather- and UV-resistant and colourfast, can be cleaned if desired. "This guarantees the façade to look good for decades to come, which isn't always the case for plastered surfaces. In addition, by replacing the existing ETICS systems based on polystyrene insulating materials with stone wool insulation, we have improved the façade's fire performance thereby increasing the safety of our tenants."
The Managing Director is already planning the next façade renovation with the same products. This time in Hannover-Herrenhausen, a district that is renowned for its parks and green spaces. We are eagerly awaiting the design idea that will be implemented together with our planning and construction partners. "With our new 'designer collection' on the façades, we are not only eliminating dullness from the residential building, but also setting high standards with regard to technology, material and manual processing.", as Dr Haese puts it in describing his philosophy. "We want to position ourselves as an exceptional provider of unique but affordable living space. Naturally, 'Haute Couture' has its price, but it also always remains unique and distinctive: quite simply something of enduring value."
Building blackboard
Principal: Wohnungsgenossenschaft Gartenheim eG, Hannover
Architecture: Architekturbüro Kozjak, Hannover
Building Contractor: Voss Bedachungen, Hilgermissen
Façade panels: ROCKPANEL Group, Roermond
Insulation: Deutsche ROCKWOOL, Gladbeck
ROCKPANEL – façade cladding boards originated from basalt
ROCKPANEL is a business division of ROCKWOOL B.V. (Roermond, Netherlands), a subsidiary of ROCKWOOL INTERNATIONAL AS (Hedehusene, Denmark), the global market leader for rock wool products and systems. ROCKPANEL is recognised by building engineers and investors in many European countries as a manufacturer of both aesthetic and durable façade cladding.
With board material from ROCKPANEL, the cladding can be designed in a contemporary and unique manner. Short installation times, simple maintenance and high cost-effectiveness make ROCKPANEL products amongst the most sought-after building materials. The products have been used for many years in ventilated structures for aesthetic finishing of façades, detailing and applications around the roof.
Given that ROCKPANEL products bring together the benefits of stone and wood, they are increasingly sought after by constructors and building engineers developing and constructing sustainable buildings. ROCKPANEL products have been independently tested by the British Building Research Establishment (BRE) and as guaranteed sustainable building materials, come with the corresponding Environmental Product Declaration (EPD) – a total of 16 construction elements attained an A+ or A rating.