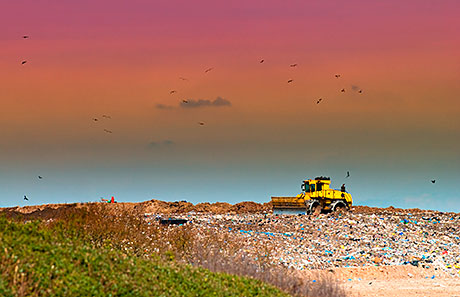 SCOTLAND could go its own way in tackling illegal waste disposal through a new levy to replace the UK Landfill Tax.
Finance secretary John Swinney has introduced a Bill that will see Holyrood take responsibility from the UK Government for administering the tax. If it goes ahead, the Bill will help tackle the problem of unauthorised dumping activity and encourage the proper disposal and recycling of materials.
The Landfill Tax (Scotland) Bill will also introduce a Scottish communities fund to support environmental organisations and give assistance to communities living close to landfill sites.
Swinney described the Bill as a move to better reflect Scottish values and circumstances. "I am eager to use this opportunity to ensure that landfill tax, environmental protection legislation, regulation and compliance regimes are all aligned and working in the best interests of our environment and our economy.
"One opportunity this opens for Scotland would be to increase the amount that is invested in the communities fund to improve surroundings and mitigate against the impact landfill has on communities.
"Landfill Tax is a cornerstone of Scotland's Zero Waste Plan which encourages the prevention, reuse and recycling of waste and helping keep valuable resources circulating in the Scottish economy."
The proposal has been backed by the Scottish Environment Protection Agency which will collect the tax if the Bill gets the green light. SEPA chief executive James Curran said the levy will encourage waste reduction and support the development of alternative waste technologies and re-using waste as a resource. "It will also help create a level playing field for operators by tackling the problem of illegal waste dumping," he added.
"I am pleased that SEPA will be collecting the tax as it will help improve the efficiency of the collection process in Scotland, further develop our relationship with landfill operators, and ensure that environmental criminals pay their dues, as well as supporting the positive work of environmental bodies throughout Scotland."
The Bill proposes a replacement for the UK Landfill Tax in Scotland from April 1, 2015. It will retain the successful elements of the current UK system while creating "a uniquely Scottish system to address Scottish issues".
Swinney's plan represents a major change to the current UK model, which taxes only legal activities. The new approach is designed to act as a strong deterrent to illegal dumping, to encourage the proper disposal and recycling of materials and help ensure that market distortions caused by illegal operations don't undermine legitimate business ventures.
A Holyrood spokesman said: "This innovative approach to landfill tax, alongside Scotland's Zero Waste Plan and waste regulations, will help Scotland maintain progress towards becoming a society where we get the greatest value out of the materials we consume and keep those resources in the Scottish economy."
Images – The Bill will crack down on illegal dumping to make sure criminals "pay their dues".