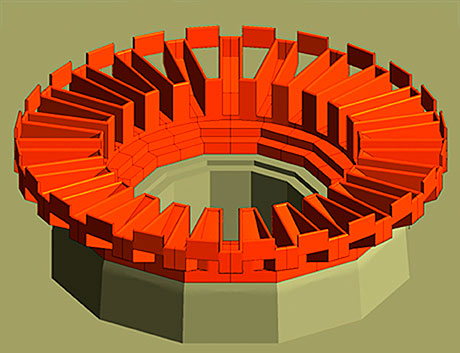 ENGINEERS are claiming a world 'first' for their project to raise the height of a dam and secure water supplies in Dumfries & Galloway.
The £5.5m scheme, led by contractor Black & Veatch at the Black Esk reservoir, will increase the capacity of the reservoir and ensure a more secure and consistent supply of water.
Kevin Moran, project manager at Scottish Water, explained: "This project will significantly improve the security of the water supply from the Black Esk Reservoir.
"We will be raising the crest of the dam by 2.5 metres using clay that already exists on site – this cuts down on cost and traffic. The project also involves raising the existing spillway weir. The spillway is an unusual design which sits inside the body of the reservoir and to the casual observer has the appearance of a large plug hole."
To raise the level a circular 'piano key' extension is being made to the weir which consists of 24 pieces of cast concrete, each the size of a Portakabin. "This is a world-first as far as we know," said Moran. "We have visited France to research these types of weirs and to our knowledge they are always in a straight line and not circular.
"We are demolishing part of the existing structure and recycling the steel and concrete. The concrete will be used as a sub-base for improvements we are making to the Forestry Commission road nearby. The steel will be taken off-site."
Other work includes raising the valve tower and replacing the bridge to the tower, a forestry road diversion, landscaping works and installing new valves.
The Black Esk water treatment works is a key asset for Scottish Water in Dumfries and Galloway. It serves a population of around 48,000 in Lockerbie and surrounding areas.
Scottish Water is also upgrading water mains in the area throughout 2013 and possibly into 2014. This work will see £2.4m worth of improvements carried out to around 32km of water mains to improve the stability of supply and water quality. In 2010 an £8.9m drinking water project was completed at Black Esk.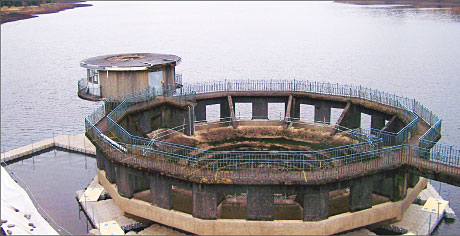 Images – Top, Graphic shows the 'piano key' weir approach being employed at Black Esk. Above, The inlet structure and valve tower at the Dumfries & Galloway facility.