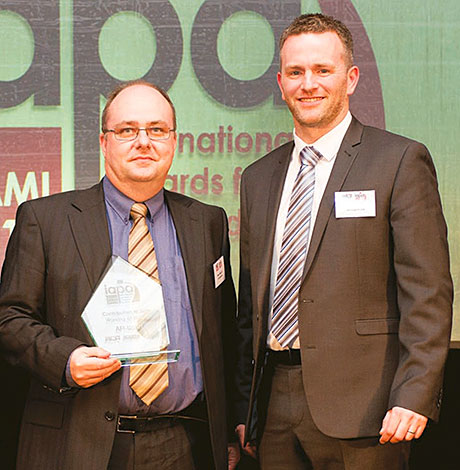 Access firm AFI have won an award for its SanctuaryZone anti-entrapment device.
It was awarded the prize for contributing to safe working at height at the International Awards for Powered Access (IAPA) Summit.
Director Nick Selley said: "We are proud of our commitment to promoting Health & Safety best practice throughout the working at height sector, and our success in the IAPA awards shows that our efforts are being recognised at an international level."
Judges said the SanctuaryZone, which prevents the operator of a mobile elevating work platform (MEWP) being crushed against overhead obstructions, made an important contribution to safety.
The device was launched internationally at an exhibition in Paris last year. It is a Tier 1 product that will fit most manufacturers' baskets and AFI is making the device available to everyone, including competitors.
As well as developing SanctuaryZone, AFI also plays a proactive role in all aspects of promoting safe working at height. This has included organising customer safety days and safety workshops, trialling the new IPAF Smart PAL Card in conjunction with its SmartZone card reader system to help prevent unauthorised use of MEWPs, and regularly producing HSEQ bulletins to give customers and non-customers safety advice.
AFI is one of the industry's leading providers of IPAF and PASMA working at height training. During the year it trained a total of 9,500 people.