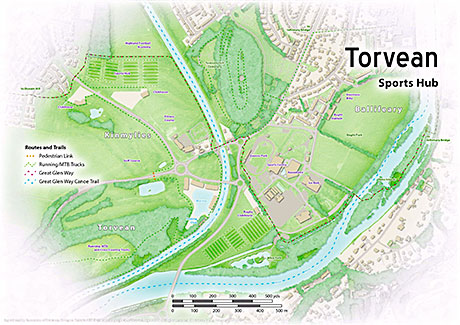 PLANS for the future development of areas of Inverness together with the timetable for a £27m road have been unveiled.
The strategy is said to highlight the huge potential to make Inverness a better connected city, provide affordable housing and create a recreational/sporting hub "the equal of any in Scotland".
The opportunity to boost the economy is being made possible by the construction of the Inverness West Link Road that will provide a new link from the Southern Distributor Road to the A82 via a fixed link across the River Ness and the Caledonian Canal.
A seven-week public consultation begins this month on both the road scheme and on a draft development brief for Torvean/Ness-side. Deadline for comments is May 31.
It is planned that the final road scheme will be taken to the City of Inverness area committee in August for approval to enable submission of the planning application and road traffic orders by late the same month.
The preferred road line was unanimously chosen by the council at its meeting in March last year following two public consultations and technical, financial and environmental assessments of more than 90 options.
The route follows a sweeping alignment along the river bank from Dores Road Roundabout to cross the River Ness at the Precast Yard/Weir. Thereafter the link road will follow the toe of the Caledonian Canal embankment to a tandem canal bridge arrangement at Tomnahurich.
A council spokesman said: "On all counts, the route we have chosen is the best one, one which we are totally committed to proceeding with. We must maintain the significant progress we are achieving so that work can start in 2015.
"The West Link will remove traffic from the city centre and make it a much more attractive place for shoppers and tourists. By providing an additional bridge over the River Ness people will no longer have to go through the city centre to cross the river."
The capital budget allocation for the road is expected to inject an estimated £10m into the local economy and help the construction industry, he said.
The council said the Draft Development Brief would excite Inverness residents because of the scope for creating a recreational hub and a major boating/yachting destination and at the same time safeguarding some of the city's most valuable assets such as Whin Park, Canal Pitches and others from development.
The brief for the development potential at Ness-side is said to have the capacity for 750-800 houses, commercial and business opportunities and new open space. In the Torvean area, proposals include the new recreational hub and additional developments of 600-650 houses at Charleston which have also been held back until the road scheme is completed.