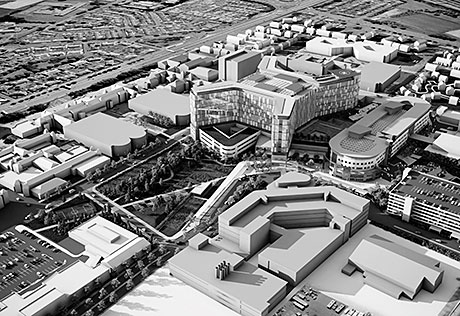 THE new South Glasgow Hospital is set to become something of a showcase for a drainage company's products.
Ensign drainage systems from iron technology business Saint-Gobain PAM UK have been specified for the sanitary soil and internal rainwater system in what will become one of the most advanced adult acute services hospitals in the UK.
Designed and constructed by Brookfield Multiplex, the hospital will be the biggest critical care complex in Scotland. Currently under construction for completion in 2015 on the site of the existing Southern General, it will comprise an acute care hospital with 1,109 beds in single-room accommodation, a 256-bed children's hospital, 30 operating theatres and a separate laboratory block.
Ensign will be used throughout the £840m development and was specified for phase two by M&E consultant ZBP and M&E consultant Wallace Whittle. Installation is by John Crawford Mechanical of Glasgow.
Jim Burns, technical sales manager at Saint-Gobain PAM UK, said: "Ensign is the only drainage system tested to a Kitemark approved to BS EN 877 and offers specifiers, contractors and installers a fit-and-forget system which outperforms all rival materials. Furthermore, it combines all the proven material properties of cast iron, which are unmatched in terms of fire resistance, acoustic qualities, strength, longevity, and chemical reaction."
Ensign consists of pipes and fittings from 50-600mm diameter for above ground specifications and 100, 150-600mm diameter for below ground.
For the hospital project, the system will be connected to cast iron, plastic and stainless steel products, using Saint-Gobain's range of push-fit socketed fittings and couplings.