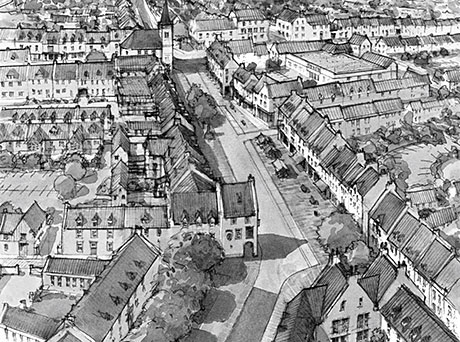 THE developers behind Aberdeenshire's planned new town have put sustainability at the top of the agenda with the appointment of advisors to find low-carbon technology for the utilities that will serve the 8,000 homes.
Elsick Development Company has appointed mechanical and electrical engineer RSP Consulting and utilities broker Inventa Partners to work together to develop a proposal for all utilities for the development, including water, gas, telecoms and electricity.
The master plan and detailed phase one application for Chapelton, which in the long-term includes up to 8,000 homes across seven neighbourhoods with schools, high streets, community and commercial space, will be considered by Aberdeenshire Council soon.
Lord Southesk, director of EDC, said: "Chapelton is designed with sustainability in mind. The town is planned to discourage excessive car use by offering a pleasant pedestrian environment as well as ample amenities and job opportunities close to home.
"The houses within Chapelton are also designed to lessen carbon emissions in line with current government policies. Early homes are designed to achieve carbon savings through use of efficient building materials."
He added: "When we reach a critical mass of homes, facilities such as a combined heat and power plant may enable residents to lower their utilities bills and achieve further carbon savings."
Robert Dunn, partner at RSP, added: "Our role is to liaise with utilities companies and advise on sustainable utilities solutions, not just for heat and power but also for telecoms and water. We are currently looking at options for a non-fossil fuel heat source and putting together a plan for a district heating system – working closely with Inventa Partners to find a cost solution.
"We are also looking at systems that minimise water use and speaking to telecoms providers about fibre broadband solutions, which will create local jobs by attracting businesses to the community."
Kerry Thompson, director at Inventa Partners, said: "The challenge to meet and exceed today's strict local and national government targets, as Elsick Development Company has set out to do, is exciting but can be expensive. We are looking at ways to deliver utilities that are commercially viable. This could be by setting up an Energy Supply Company (ESCo) or a multi-utility services company – there are a number of innovative options."
Inventa and RSP recently worked together on Edinburgh's St James Quarter, the proposed development to demolish the St James Centre, New Andrew's House and multi-storey car park and build homes, hotels, offices, cafés and restaurants.
The two will work alongside project manager consultant Turner & Townsend.
Image – One of the seven proposed neighbourhoods.